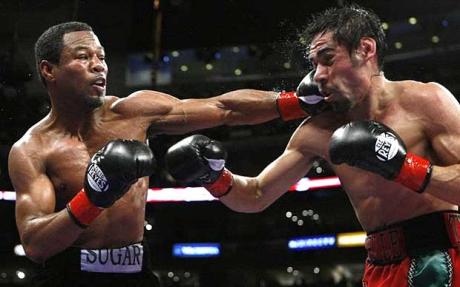 Shane Mosley keeps beating Top Rank. Bob Arum recently laughed about it. Three times Shane Mosley has gone up against a Top Rank star and three times he has either beaten their ass (De La Hoya twice and Margarito once) or taken them to the wall (Miguel Cotto in a close loss).
The first time he did it, it was 2000 and the opponent was Oscar De La Hoya. Shane had been  the man at lightweight and I guess Top Rank thought, "He's a lightweight. Oscar'll be ok."
Ooops.
Second time he did it was in 2003. Shane had gotten dropped (nearly decapitated) by Vernon Forrest and beaten twice in a row.
http://www.youtube.com/watch?v=jzzYlMfkbJ4&feature=related
After that, in his first fight at 154, Shane still didn't look quite himself. So again, Top Rank thought "Ok. Now we have him. Let Oscar get his revenge against Shane because we damn sure ain't letting Tito get at him again."
No one was more surprised than Shane when he beat Oscar again. (go to the 10:00 mark. Hilarious)
http://www.youtube.com/watch?v=bQ1S_zeWJRE&feature=related
Poor Oscar missed it by a fight; two times in the ring with Winky Wright and Shane had two more losses. A few years, a couple meaningless wins over a past it Fernando Vargas, a fight with Luis Collazo and a struggle-fest with Ricardo Mayorga later and it's now January 2009.
Again, everyone is thinking this is it. Shane is all done. No way he can do it. Did we mention he's old?
And yet, he beats Margarito's ass into the ground. It wasn't even a contest.
http://www.youtube.com/watch?v=tDUGFGfljIM
So maybe, maaaaybe with that history, he has a chance this weekend. Maybe he is the one underdog to stop Pacquiao from keeping this streak alive. Sure he lost to Mayweather and he looked like crap in the fight with Mora. But then again, who has beaten Mayweather? And who looks good fighting Mora?
Maybe Shane Mosley, who has had as much success against Top Rank for the past decade as any top boxer, is the just the man for the job.
What do you think?
---