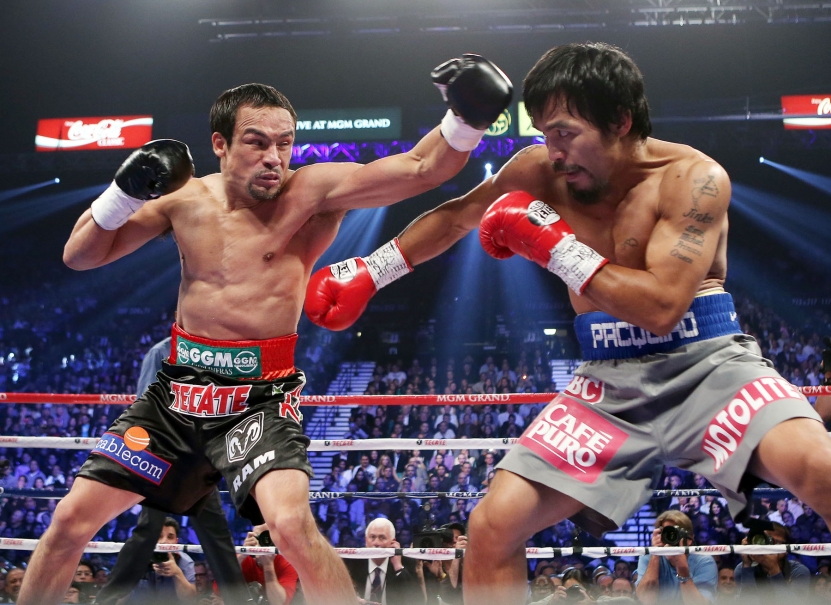 With his dominating win this past Saturday Mexican Juan Manuel Marquez has opened up the flood gates once again on a possible fifth fight against Manny Pacquiao for later this year.  In the week leading to Marquez's fight vs former WBO light welterweight champion Mike Alvarado in the first boxing event at the Fabulous Forum in Los Angeles in several years, Manny Pacquiao announced that he would be interested in facing the winner in his second fight of the year planned for November.  After dropping Alvarado in the eighth and then going down himself in the next round, Marquez was able to counterpunch himself to a near shutout unanimous decision in front of an overwhelmingly pro-Marquez crowd of over twelve thousand.
Despite coming off a split decision loss back in October to Timothy Bradley Marquez enjoyed within the confines of the legendary Los Angeles venue the hospitality of thousands of fight fans as he dominated the action with quick hands, a brutal body attack and precise punches to the head. Alvarado, although being the much bigger man, was not able to take advantage of his size as Marquez was successful in keep him guessing.  Things took a turn for the worst for Alvarado when a crushing right hand sent the Denver fighter to the canvas.  Surprisingly Alvarado was able to right the ship somewhat in the following round with his own knockdown of Marquez but it just wasn't enough since Marquez went back to aggressively boxing and finished off by causing a huge mouse under Alvarado's left eye.
By all intents and purposes the win has put Marquez in the driver's seat as far as the fifth fight with Manny Pacquiao.  Since his fateful knockout of the Filipino superstar back in December of 2012, Marquez has been adamant of not being interested in a fifth go-around.  His stance quickly took an one hundred and eighty degree turn when Pacquiao defeated Timothy Bradley last month and in turn conquered the WBO welterweight crown.  From then on, Marquez seemed to be warming up to the idea since Marquez says that at the age of forty, he is only in boxing to capture the alluding fourth title in as many divisions.
Surprisingly, Marquez has gone back to being skittish of the match up many fans and media are rather indifferent to.  In a number of post-fight interviews Marquez never gave a straight answer and instead said that he would need to go back and first see what his body feels like after this fight and then see what his family has to say regarding the fifth fight.  Arum, never one to hold his cards in close, mentioned that if Marquez decides not to face Pacquiao that he will look across the aisle to Oscar De La Hoya and discuss possible opponents from the Golden Boy stable.  One thing that Arum did not hesitate to mention is that no one from the Golden Boy side would bring any type of purse comparable of what he would earn from facing Pacquiao once more.
At the end, that might be all it might take.
---