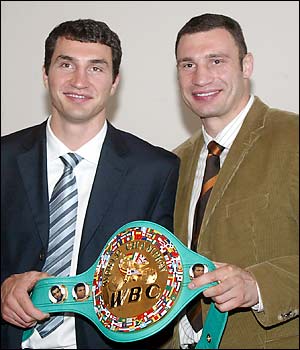 After watching Vitali Klitschko get hit in the face way too much too often by a chubby Odlanier Solis, I'm starting to think the critics are right: Vitali is slowing down and ready to be had. The legs look stiffer than usual.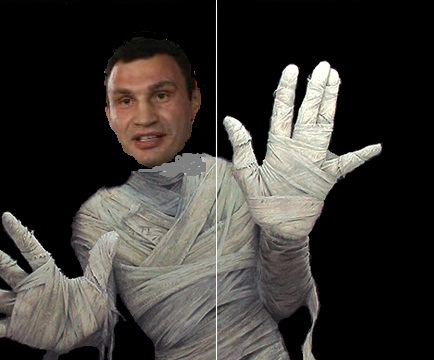 The backward movement to get out the way of the punches is not quite there anymore. I mean really, Vitali is looking more and like the easier of the two brothers to beat for David Haye.
It's being reported by The Guardian that Wladimir Klitschko, who was looking to fight David Haye "I Found My Intestinal Fortitude" in July, might still have that abdominal injury that could delay the fight. If that happens, Vitali could step in.
I think the time is right for Haye to beat Vitali. If he does, how big could Wladimir getting revenge against David Haye get? And will it end up in the UK instead of Germany like the Klitschkos want? And while we're at it, why are the Klitschkos so big in Germany when they are from Ukraine?
Vitali has a lot of miles on that odometer as a boxer and kickboxer, has had a knee injury himself and is not what you'd call young.
Wlad has that chin issue but has not been buzzed in years and is looking like he is priming right now.
If I were Haye, I'd go for Vitali now and get more to bring to the table with a big win.
What do you think?
---