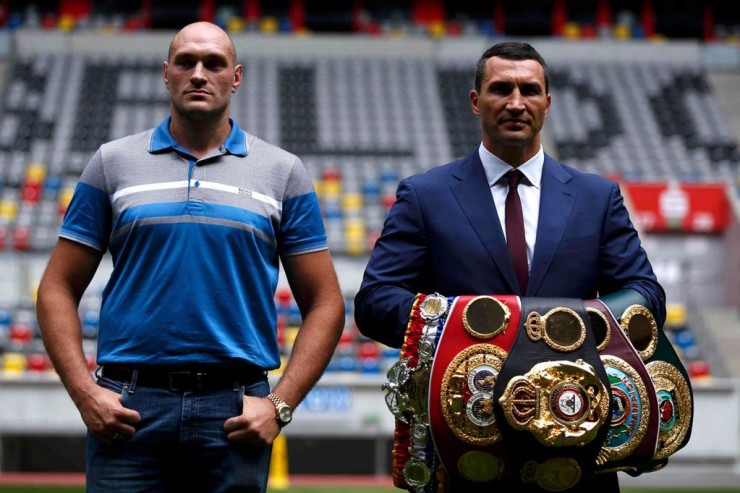 Unified Heavyweight champion of the world Wladimir Klitschko (64-3, 53 KOs ) will defend his titles versus mandatory number 1 ranked challenger Tyson Fury (24-0, 18 KOs ) this Saturday. The bout will take place at the ESPRIT arena, in Düsseldorf, Nordrhein-Westfalen Germany. The venue seats well over 50,000. The scheduled for 12 round main event will be aired in the U.S. on HBO.
The bout was originally scheduled for this past October 24th but was postponed when Klitschko pulled out due to injury. It was like dejavu for Fury who went through the same thing with David Haye who also pulled out of their proposed fight due to injury. Fortunately unlike the Haye fight the fight will Klitschko was not scrapped and will happen this Saturday. This is good news for fans as this has been a highly anticipated matchup for quite some time.
Fury has basically made the promotion with all different types of antics. He seems to really believe that he is winning the mental battle between the two. Some feel that this is very unlikely with all the experience that Klitschko has in his favor. He has been a world champion for over 10 years now. He has faced all the top challenges with success during that time. He also will have a large capacity crowd behind him. This will be a switch for Fury who has yet to fight in this type of atmosphere. Well at least not as the b side fighter.
There are so many different questions entering a fight like this. One that jumps out is if the youth advantage for Fury being 27 and Klitschko being 39 will be a factor. Klitschko seemed to struggle in his last fight with the far less experienced  and younger Bryant Jennings. This could be attributed more to the fact that Jennings has awkward style. It has been a few years now and multiple fights later but Steve Cunningham dropping Fury in their fight is still being talked about. All these doubts and questions should be answered this Saturday.
---