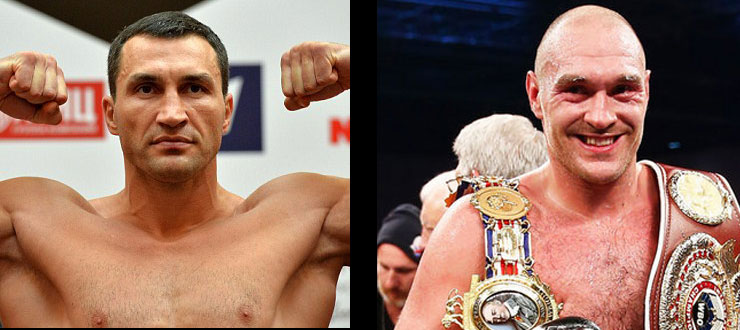 Unified heavyweight champion of the world Wladimir Klitschko and unbeaten mandatory challenger Tyson Fury will clash on October 24th in Germany. The bout was scheduled to go to purse bid but both sides were able to come to an agreement prior to the deadline. The bout will feature two of the tallest fighters to square off  for the heavyweight title with the 6′ 6″ Klitschko and the  6′ 9″ Fury.
Fury has called out  Klitschko for quite some time and will now get his chance. Time will tell if the expression be careful what you wish for will apply. This will be Fury's fourth professional fight outside of the United Kingdom. Klitschko is from the Ukraine but has had a large majority of his pro fights in Germany. It will be a pro Klitschko crowd for sure.
This will be one of the rare times in Klitschko's career that he is facing an opponent that is taller than him. Fury has shown a lot of improvement of late but this is a major step up in class for him. He will talk a good game but be rest assured he knows that he is in for his toughest fight to date by a longshot. Fans should fully expect that Fury will enter this bout in the best shape of his life.
It can also be expected that Klitschko will perform much better than he did in his last fight against challenger Bryant Jennings. Klitschko to be honest didn't perform badly but it was more of Jennings performing much better than expected. Styles make fights as they say and it was never more evident than that fight. Klitschko still showed that he can win even against an awkward styled opponent as Jennings was.  Fury will be a much bigger and less elusive target than Jennings. This should help see Klitschko get back on track offensively.
The size of the two will sell the fight itself but Fury is an excellent marketing tool all by himself. He is very outspoken and brash where Klitschko is much more reserved and respectful. Klitschko is said to still have one more fight with HBO under their current agreement. It hasn't been made official yet but it would seem logical for HBO to air this fight live during the daytime in the U.S. When the fight concludes we will either have a beginning of a new era in the heavyweight division or the legacy building continuing on of the current one.
---