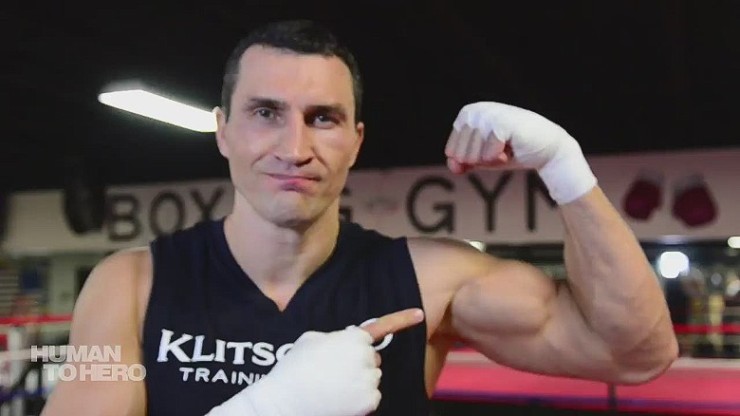 "Dr. Steelhammer".  Is there a better alias than that in boxing? Of course, there is "Iron", "Manos de Piedra" and the "Golden Boy" but none of them of prove to be as true as Wladimir Klitschko's.  His right hand does act as a steelhammer.  First he lulls his opponent, and most of the audience, with a steady jab fest for most of the first half of the fight and then he starts to drop that long right hand after it.  Pretty soon, the crowd is on their feet but his opponent is not.  That is pretty much the blueprint for the majority of his knockouts, fifty-three of sixty-four wins to be exact, giving him an impressive 79.1% knockout ratio, one of the highest for active fighters.
This Saturday night from Germany, Klitschko looks to add undefeated Brit Tyson Fury to that list.  The thirty-nine year old native of Ukraine will be defending his WBA, IBF, WBO and IBO heavyweight titles.
Klitschko has been a professional for nearly for twenty years and for the majority of that time, along with his brother Vitali, he has reigned over the heavyweight division.  He has all the titles except for one around his waist but he still doesn't get pound for pound love?  Not that it is important but if somebody deserves it, it is Klitschko.  Wladimir has defeated every major threat that has been put in front of him.  Chris Byrd, Frans Botha, Ray Mercer, Jameel McCline, Samuel Peter, Calvin Brock, Ray Austin, Sultan Ibragimov, Tony Thompson, Hasim Rahman, Ruslan Chagaev, David Haye, Alexander Povetkin and Bryant Jennings among others have all fallen to "Dr. Sledgehammer".  Not necessarily murderer's row but Klitschko was above and beyond his opponents.
So is the twenty-seventh year old Fury the end of Klitschko?
He sure thinks he is.  One advantage Fury might over Klitschko the others might not is that at six foot nine inches, he is actually three inches taller than the Ukrainian himself.  At the weigh-in Fury actually came in a pound heavier than Klitschko so for the first time in a long time or ever, Wladimir will have a bigger opponent across the ring from him.
A professional since 2008, Fury's biggest name on is ledger is Dereck Chisora, twice.  He also holds wins over Nicolai Firtha, Vinny Maddalone, Kevin Johnson and Steve Cunningham.  In his last fight, Fury made Christian Hammer of Germany in eight rounds.  In Klitschko, Fury will find a tried and true champion, a fighter who has been at the top of the mountain top for years but also at the depths when he took his last loss, a fifth round TKO to Lamon Brewster.
Eleven years ago.
Ever since Kliltschko hooked up with the late great Emmanuel Stewart, he has been unstoppable.  Granted, his opponents have not been the greatest but perhaps his conqueror has not been born yet.  Or he was born twenty-seven years ago in Manchester, England.  We will see Saturday afternoon in the Unites States from Germany.
---