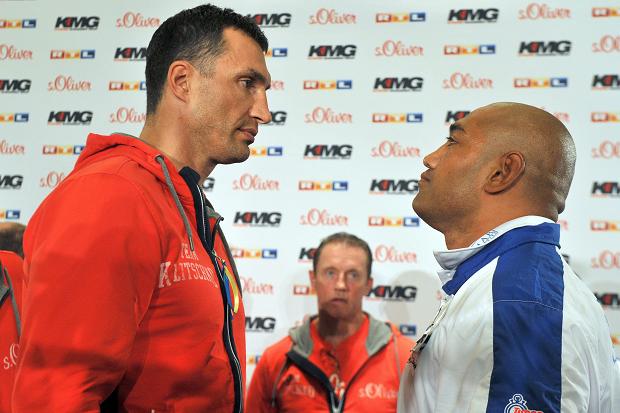 This past week our debate was on if instant replay should be used fulltime in boxing. The majority felt that it might be best to just leave things how they are. Some felt that it may take away from the live action of the fight with the delay. One reason being is that instant replay is fulltime in professional football and Basketball. This has allowed fans to see how it can impact or slow down a sporting event.
This week the topic of debate is in reference to the heavyweight division. We have heard opinions in the past on whether the division itself should be broken into two separate divisions. One for weights 200 to 225 and the other 225 pounds higher to be the super heavy weight division. This seems simple enough but can still leave some very uneven physical matchups. One example of this was the world heavyweight championship fight between unified champion Wladimir Klitschko and his mandatory challenger Alex Leapai last year. Klitschko was actually slightly outweighed by Leapai 248 to 247¼. However, during their face off  Klitschko completely dwarfed Leapai. The 6′ 6″ Klitschko also had a 81″ reach to Leapai's 75″.  Klitschko went on to easily stop Leapai and retain his world titles.
The physical dimension factor would seem to play a huge role in how  effective it would be to have two seperate divisions. There are going to be shorter heavyweights who simply cannot make a 225 pound weight limit. WBC heavyweight champion Deontay Wilder hovers around 225 pounds in weight. His  6′ 7″ height  and a 81″ reach would have him with a major advantage over most under that format. This is not even speaking on his power and skills. He could dominate under this format.  His opposition under the format would be blown up cruiserweights it would seem.
A big reason this topic has even be brought up over the years has been the more than a decade dominance of Wladimir and his brother Vitali Klitschko. Vitali himself is nearly 6′ 8″ and a 79″ reach .  Some felt they were and just are too physically advantaged over their opposition. The results of their fights would seem to support this. The Klitschko's to their advantage have seeked out the very best opposition over the years.  We want your take on if you feel two separate heavyweight divisions is warranted. If you feel  it is please tell us how you think the format should be set up.
---