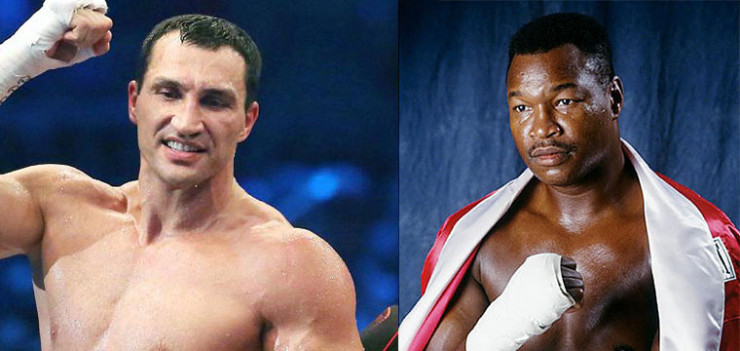 This past week our debate was whether there should be two separate heavyweight divisions. In recent years there had been many who felt that it was a logical step that should be made.  A big reason the topic was brought up in recent years was due to the decade dominance of the Klitschko brothers Vitali and Wladimir. Vitali  is nearly 6′ 8″ with a 79″ reach and Wladimir is 6′ 6″  with an 81″ reach. The pair towered over the opposition setting the stage for many mismatches over the years. The overall feeling was that the current heavyweight division is not that exciting and that breaking it into two separate divisions wouldn't change that.
We have decided to stay with the heavyweight division. Last week was current events. This week were going to compare the present to the past. The numbers for consistency over the last 30 years for heavyweight championship reigns are led by Larry Holmes and Wladimir Klitschko. Mike Tyson and Lennox Lewis had solid reigns as well. Tyson's was shorter one where Lewis' title reigns were interrupted twice by upset losses. Holmes was champ from 1978-1985 where Klitschko is from 2006-present.
Holmes became world champion defeating Ken Norton in a thriller that is still talked about and shown on highlights to this day. He won his first 20 world title fights including 19 consecutive world title defenses. He also started his career off at 48-0 over span of 12 years. Another impressive fact is that Holmes was not an accomplished amateur. He had an amateur record of 19-3 and didn't qualify for the United States Olympic. He basically learned on the job as they say making his accomplishments as a professional that much more impressive.
Klitschko's career couldn't have taken a more different path than Holmes. He was very accomplished amateur winning Olympic gold in 1996. Klitschko suffered his first defeat a lot sooner than Holmes losing within his first few years after turning professional. He would rebound from his first loss and become world champion about two years later. The reign would end about three years later followed up by a failed world title attempt about year later. That would be the last taste of defeat for Klitschko as he has strung together quite the win streak which currently is at 22 including 19 of those in world title fights.
The debate is who do you rate better. Holmes for his consistency without losing or Klitschko's overall ability to rebound to produce the current numbers he is doing. Klitschko can still add to his numbers but he cannot duplicate what Holmes did without any defeats for such a long period of time. As a bonus we like to hear your take on who would you have favored had the two faced each other at the prime moments of each of their careers.
---