Boxing History: July 28, 1931 Henry Armstrong's pro debut. Al Lovino KO 3 Henry Armstrong, Braddock, PA.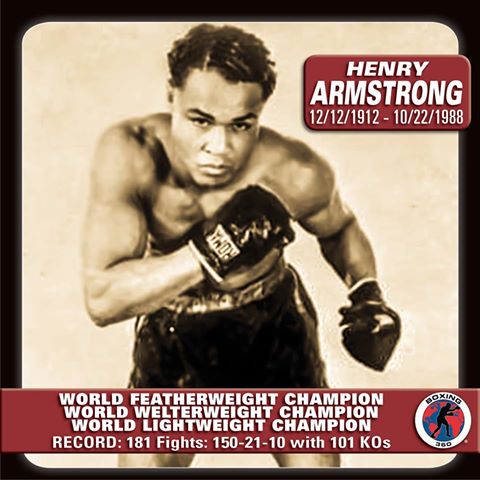 RECORD: 181 Fights: 150-21-10 with 101 KOs
Henry Jackson Jr. (December 12, 1912, Columbus, Mississippi – October 22, 1988, Los Angeles, California) was an American professional boxer and a world boxing champion who fought under the name Henry Armstrong. He is universally regarded as one of the greatest fighters of all time by many boxing critics and fellow professionals.
Henry Jr. was a boxer who not only was a member of the exclusive group of fighters that have won boxing championships in three or more different divisions (at a time when there were only 8 universally recognized World Titles), but also has the distinction of being the only boxer to hold three world championships at the same time. He also defended the Welterweight Championship more times than any other fighter.
In 2007, The Ring ranked Armstrong as the second-greatest fighter of the last 80 years. Bert Sugar also ranked Armstrong as the second-greatest fighter of all time.
In This Corner – Henry Armstrong Documentary
(Henry Melody Jackson) ("Homicide Hank")
Armstrong was dynamite in a small package; He was a high pressure, non-stop fighter who threw punches from the beginning to the end of every round; His goal was to knock his man out – if he didn't manage that, he certainly battered him thoroughly.
Henry held three world titles – Welterweight, Lightweight, Featherweight – in a period when only eight weight divisions existed; At the beginning, his performance was rather good but not sensational; However, when he hit stride in the mid 1930s, Armstrong was as good as anyone has ever been; During 1937, he was 27-0 with 26 knockouts; In 1938, he was 14-0 with 10 knockouts; From December, 1936 until September, 1940, Henry compiled a 59-1-1 record (51 KOs) competing against the best in the world.
Charley Rose ranked Armstrong as the #6 All-Time Welterweight; Nat Fleischer ranked him as the #8 All-Time Welterweight; Herb Goldman ranked Armstrong as the #4 All-Time Lightweight; He was inducted into the Ring Boxing Hall of Fame in 1954 and the International Boxing Hall of Fame in 1990.
---