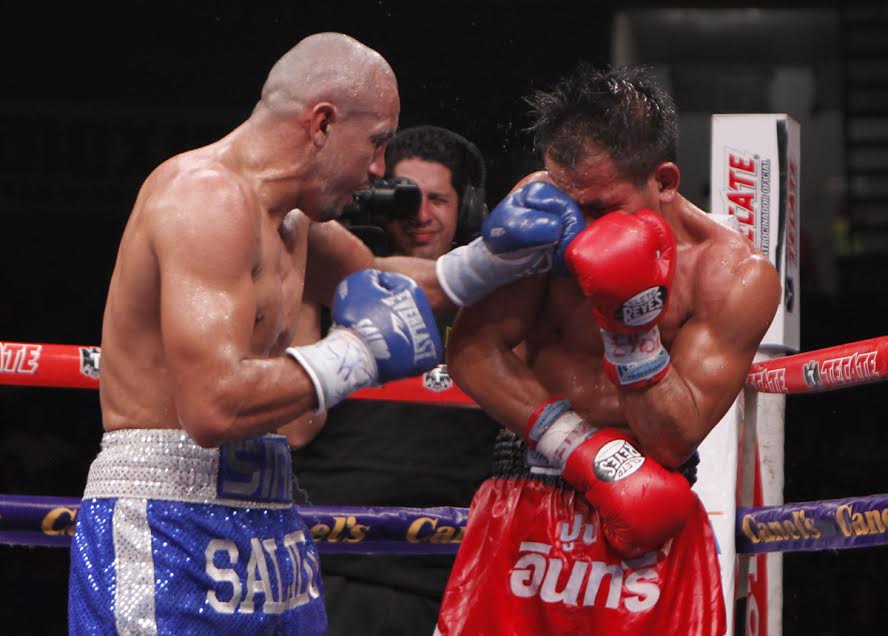 This past Saturday night two of the best fights this year went down and they weren't in the United States or on either HBO or Showtime.  The two U.S.-based cable network companies collectively have the biggest boxing budget in the business but sometimes you just need two, or in this case, four willing warriors and you get an awesome night of boxing, this time in Tijuana, Mexico.
In the semi-main event that was broadcast live in Mexico by the Azteca channel and in the U.S. by new player BEIN was the light flyweight clash between the hometown favorite Javier "Cobrita" Mendoza and Ramon "Principe" Garcia.  Not to take anything away from Mendoza but Garcia might have been a bit unfocused since his hometown of Las Paz, Baja California Sur, Mexico, was ravaged by tropical storm Odile just last week.  The fight almost didn't happen, at least not for Garcia, since flights ceased after Odile but promoter Zanfer got him on a ferry to the main land and then flew him out of Los Mochis, Sinaloa.
Unfortunately for Garcia, Odile was nothing compared to the storm of body shots he encountered from Mendoza once inside the ring.  Mendoza began attacking the body early and after surviving a hook that wobbled him in the third round, he continued to punish Garcia to the mid-section until dropping him half way through the fight.  From then on it was just a matter of time as Garcia began to lose steam and Mendoza seemed to get stronger as he kept going to the body looking for the knockout he and the hometown crowd behind him wanted.
The knock out didn't come but the IBF belt did and with tears in his eyes, he was carried on the shoulders of his new team as the first Tijuana champ since November 2012 when Antonio DeMarco, originally of Los Mochis but fighting out of Tijuana, was defeated by Adrien Broner for the WBC lightweight title.
If that fight wasn't exciting enough, then former WBO 126lb champ Orlando "Siri" Salido joined the party along with veteran Terdsak Kokietgym for eleven rounds of true mayhem inside the squared circle.  There was no round of study as both men met the canvas in the first round and then proceeded to knock each other down several more times.  Each punch thrown by the duo were meant with bad intentions with neither one letting up much to the delight of the Tijuana fight crowd who know their boxing.
It was only natural that one of them would not be able to keep up the pace and it turned out to be Kokietgym as he began to slow down in the later rounds and begin to fight with his hands down.  In the eleventh, clearly fatigued, he let his guard down for a split second too long and Salido was able to sneak in a hard combination finished off with a left hook that put him down hard. No count was needed as Kokietgym was in no condition to continue but once he reached his feet and acknowledged the crowd, they let him know that they would not soon forget the only Thai fighter many of them have ever laid their eyes on.
---