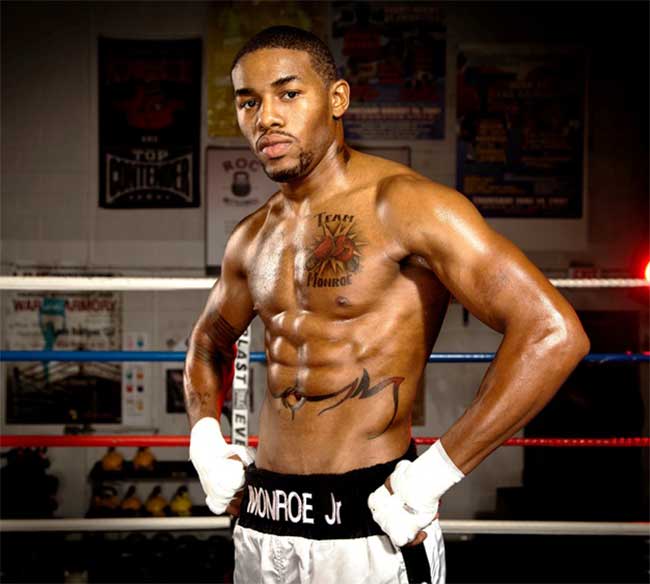 The odds seem already stacked against Willie Monroe Jr. (19-1 , 6 KOs) as he approaches his May 16th challenge of world champion Gennady Golovkin (32-0 , 29 KOs). There has been so much talk of Golovkin's power and Monroe Jr.'s lack of that the outcome seems like a forgone conclusion. Those who closely follow the sweet science of boxing know that it's not always quite that simple. Golovkin is riding a current 19 fight consecutive knockout streak but will face a different style of fighter in Monroe Jr. than he has seen of late.
Monroe Jr. is a very crafty fighter. This should not be confused with boring. He is not a runner but slips punches very well. This will be a very important weapon for him vs Golovkin. Monroe Jr. also counters very well without getting reckless.  Golovkin isn't so difficult to hit but makes you pay the price if you decide to exchange with him. Golovkin has power in both hands so it's not wise to stand and trade with him for too long if at all.  Monroe Jr. has the reach advantage on Golovkin.  It would be to his advantage to find the  proper distance and attempt to keep Golovkin on the end of his jab.  All this sounds easy of course but doing it is another thing all together.
A mistake that has been made against Golovkin are his opponents just abandoning their game planes' once they are hurt or knocked down. Some have just gone right at him in heated exchanges and become a part of his recent string of KO victims.  Monroe Jr. during the lead up to the fight seems extremely confident. He hasn't fought anyone the caliber of a Golovkin but it doesn't mean he can't fair well against him.  His only career loss was by split decision to to veteran Darnell Boone. There is no shame in that as Boone has knocked out current top pound for pound light heavyweight Adonis Stevenson, dropped Andre Ward before losing to him by decision, and lost a split decision to Light Heavyweight champ Sergey Kovalev.
Monroe Jr. will enter his fight with Golovkin with some momentum. He has won 9 in a row overall. Winning the ESPN2 Friday Night Fights Boxcino middleweight tournament for sure put him in the situation that he is in now.  His biggest win of the tournament came in the semifinal against unbeaten 23-0 Ukranian Vitaliy Kopylenko who entered as the favorite to win the whole thing. Monroe Jr. completely dominated Kopylenko en route to the unanimous decision win. The tournament got Monroe Jr. some very valuable television exposure. This actually was excellent preparation in retrospect as he has already been under the bright lights and performed. He will now look to continue this success on a bigger stage against a much bigger name.
---