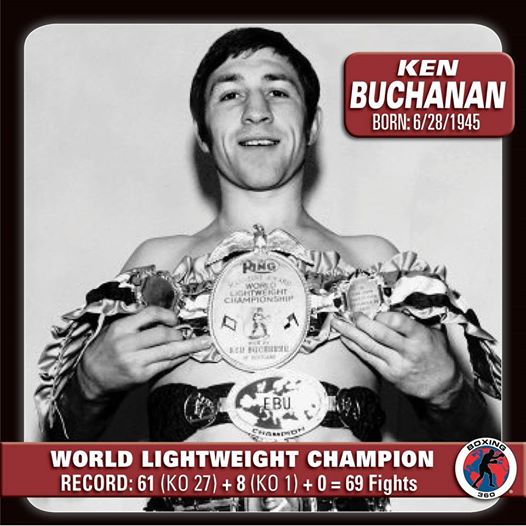 Boxing History: February 12, 1971 Ken Buchanan W 15 Ruben Navarro, Los Angeles.
Retains World Lightweight Title.
Ken Buchanan (born 28 June 1945) is a Scottish boxer and the former Boxing Undisputed World Lightweight Champion.
Buchanan defeated Rubén Navarro in Los Angeles on February 12, 1971, acquired the vacant WBC championship and became the Undisputed World Lightweight Champion. After that, he was allowed to fight in Scotland again, and he returned there to beat former world junior welterweight champion Carlos Morocho Hernández by a knockout in eight.
On June 26, 1972, against Panama's greatest, the then undefeated Roberto Durán at the Madison Square Garden (MSG) in New York, in a bout which had a highly controversial ending. Durán was ahead on all three cards at the end of the 13th round, when both fighters exchanged punches after the bell. Buchanan went down, writhing in pain from a low blow, that Buchanan's trainer, Gil Clancy, said was caused by a knee to the groin. Referee Johnny LoBianco awarded the fight to Durán, insisting that the blow that took down Buchanan was "in the abdomen, not any lower" and that he felt that Buchanan would be unable to continue fighting. Columnist Red Smith of The New York Times wrote that LoBianco had to award the victory to Durán, even if the punch was a low blow, as "anything short of pulling a knife is regarded indulgently" in American boxing. Regardless of the circumstances of the fight's conclusion, Buchanan took a beating throughout the bout and required hospitalization and surgery. Buchanan never received a rematch with Duran during the remainder of his boxing career; according to Gil Clancy this was because of no fan interest.
It is interesting that both fighters, his predecessor and his successor at the WBA championship were both Panamanians, Laguna and Duran.
In his next fight, Buchanan beat former 3 time world champion Carlos Ortiz by a knockout in six, also at the MSG, and he finished 1972 with a win over Chang Kil Lee.
In 1973, Buchanan started out by beating future world Lightweight champion Jim Watt by a decision after 15 rounds, to regain the British lightweight title. Soon, he embarked on another international tour that included more fights in the United States, several fights in Denmark, and one fight in Canada. He won each of those fights, leading towards a challenge of European Lightweight champion Antonio Puddu in Italy, and Buchanan added the European Lightweight championship belt to his shelf by defeating Puddu by a decision in 15 rounds. He retained the title by beating Tavarez for the third time, this time by a knockout in 14 at Paris, and then he travelled to Japan to fight for the world title again. This time, however, he was defeated by a decision in 15 rounds by the WBC's world champion, Guts Ishimatsu.
Buchanan re-grouped once again, and won in a defense of the European Lightweight title against Giancarlo Usai by a knockout in 12. But he retired from 1976 to 1978, leaving the European Lightweight title vacant.
When he returned to professional boxing in 1978, he won two straight bouts, but everything else started going backwards for him. Challenging Charlie Nash in Copenhagen, he lost by a decision in twelve. In 1980, he won two bouts in a row, but after that, he lost five bouts in a row, finally retiring for good after losing to George Feeney by a decision in eight on 25 January 1982.
In 2000, he was elected to the International Boxing Hall of Fame.
---