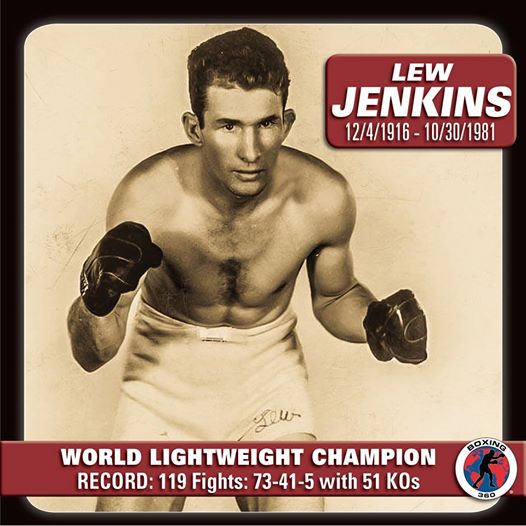 Boxing History: December 2, 1935 Lew Jenkins W 8 Lee (Moon) Mullins, Phoenix. Jenkins' pro debut.
Lew "Sweetwater Slinger" Jenkins
12-41916 – 10-30-1981, Record: 73-41-5 (51 KOs). Lew Jenkins served in the Korean War in the Second Infantry Division. He was awarded the Silver Star and is buried in Arlington National Cemetery
Welterweight boxer. A hard-hitter from Milburn, Texas, Jenkins fought the best of two divisions (lightweight and welterweight) during the 'Golden Age' of boxing. After fighting in hometown Milburn and Dallas, Jenkins moved on to Long Island and New York City. His first-round stoppage of Tippy Larkin on March 8, 1940, led to a shot against lightweight champ Lou Ambers. Jenkins put his power to good use as he knocked out Ambers in the third round to capture the crown on May 10, 1940. Of Jenkins' 65 victories, 47 came by knockout. Jenkins successfully defended his crown with a second-round knockout of Pete Lello before losing the title via 15-round decision to fellow hall-of-famer Sammy Angott on December 19, 1941. However, during his reign, Jenkins fought three non-title bouts against welterweight champions
Henry Armstrong, Fritzie Zivic and Freddie "Red" Cochrane. Each fight was billed as a "Non-Title Bout Between Two Champions." Jenkins was stopped in six rounds by Armstrong, drew in 10 rounds with Zivic and dropped a 10-round decision to Cochrane.
Among the other notable opponents Jenkins met are Marty Servo, Jimmy Doyle, Carmen Basilio and Beau Jack. Jenkins served in the U.S. Army during World War II and in Korea and retired from boxing after getting knocked out by Jack in 1950.
---