Boxing History: August 9 ,1943 Ken Norton was born!

Kenneth Howard "Ken" Norton, Sr. (August 9, 1943 – September 18, 2013) was an American heavyweight boxer. He is a former WBC world heavyweight champion. Norton fought in one of the classic eras of heavyweight boxing, and competed against many of the best boxers in the division. He was known for his unconventional cross-arm style defence, which made him an awkward and frustrating opponent to face. Norton's name became household when he became the second man to defeat Muhammad Ali in 1973, and in doing so broke the champion's jaw in the process. Norton ended up fighting Ali three times, and he lost the latter two bouts. Norton is also known for his classic battle with Larry Holmes, a fight which he lost by split decision. The final round of the fight between Norton and Holmes is largely recognised as one of the greatest rounds of all time.
Norton scored several decisive victories over the course of his career, which secured his place in the history of heavyweight boxing. He holds notable wins over Muhammad Ali, Jerry Quarry, Ron Stander, Duane Bobick, Jimmy Young and Randall Cobb.
Norton competed in one of the most competitive and classic eras of heavyweight boxing, fighting the likes of Muhammad Ali, Larry Holmes, and George Foreman.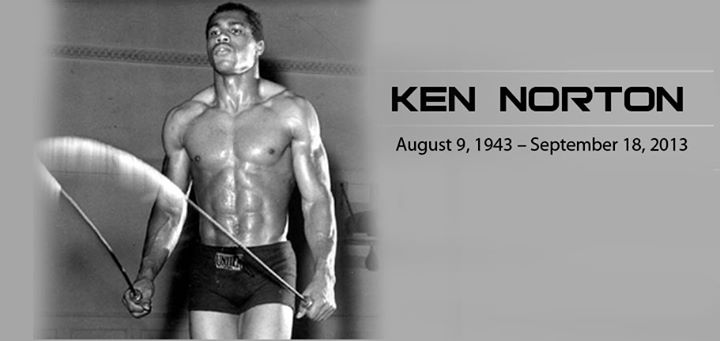 In 1963 Norton joined the United States Marine Corps. where he discovered boxing, and like most other sports he tried his hand at, he excelled compiling a 24–2 record. Norton went on to win three All-Marine Heavyweight titles. He left the Marine Corps in 1967 to become a professional boxer.
In 1973 he made history stepping into the ring under relative obscurity, Norton promptly made a name for himself by breaking Ali's jaw and winning a 12-round split decision.
In 1977 Norton finally became WBC heavyweight champion, after Leon Spinks refused to fight Norton instead re-matching Ali, whom Spinks had just beaten to claim the WBA and WBC titles. The WBC stripped Spinks off the title and handed it to Norton.
KEN NORTON died at a care facility in Las Vegas, Nevada on September 18 2013. He was 70 years old and had suffered a series of strokes in later life. The boxing world paid tributes, with George Foreman calling him "the fairest of them all".
---