Boxing History: May 17, 1884 Sam McVey was born Samuel E. MacVea.
McVey was a Hall of Fame heavyweight boxer who ranked alongside Jack Johnson, Joe Jeanette, Sam Langford and Harry Wills as one of the top black heavyweights of their generation. All of them, with the exception of Johnson, were denied at shot at the world heavyweight championship due to the color bar, which ironically was maintained by Johnson when he became the first black fighter to win the world heavyweight title. Despite being denied a title shot, McVey enjoyed a famed career that took him across the globe.
Fighting out of Oxnard, California, McVey stood 5'10½? inches tall and fought at a weight of between 205 and 220 lbs. He relied more on brute strength than finesse in the ring. He had his first pro fight in 1902 at the age of 18.
McVey spent much of his prime years fighting overseas. He left for Paris in 1907 and fought there for four years. McVey left Paris in 1911 for Australia. He fought there for three more years before finally returning to the U.S.
On December 31, 1908 in Paris, Sam McVey competed in a mixed style bout against jujutsu expert Tano Matsuda, knocking him out in ten seconds. In the earlier part of this century, such bouts were occasionally held in Japan pitting western boxers against judo or jujutsu fighters.
On April 17, 1909 in Paris, Sam McVey fought Joe Jeanette in a bout considered one of the greatest and certainly one of the longest of the 20th century. The fight went 50 rounds and lasted three and a half hours. McVey was generally agreed to be winning through most of the fight, particularly the 21st and 22nd round, knocking Jeanette down repeatedly. By the 40th round, however, Jeanette had recovered while McVey was lagging and knocked down repeatedly. Ultimately McVey's eyes had swollen shut and he was forced to quit.
McVey contracted pneumonia, and died December 23, 1921 in New York City, penniless while still an active fighter. His burial and grave marker were paid for by Jack Johnson.[5]
McVey was inducted into the International Boxing Hall of Fame in 1999.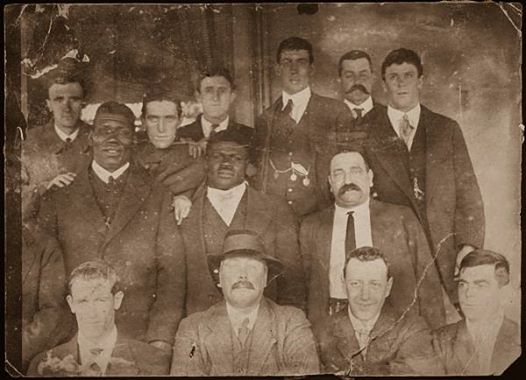 Sam McVey: The Mike Tyson of His Time CAPTION: Gus Devitt, Reg Sanderson, Sam McVey, Peter Felix, Ike Morrell and others. [1915]
Historian Charley Rose regarded McVey as an all time heavyweight hitter, just as many do Tyson today, ranking Sam # 7 on his all time heavyweight list in 1968. McVey was a short, stocky built puncher like Iron Mike and with similar type punching ability. McVey, like Tyson, also had a lot of success at a young age; he was only 18 when he went 20 rounds with Jack Johnson in their first fight. McVey made his reputation as a fierce puncher knocking out former "colored heavyweight champion" Denver Ed Martin, a slick boxer known to have a good chin and fast footwork in one round. Sam lost a rematch to Martin on a ten round decision, and in a third fight with Martin, Sam knocked him stiff with a right hand in the 4th round. It was considered one of the fastest and fiercest fights seen in a San Diego ring to that time.
---