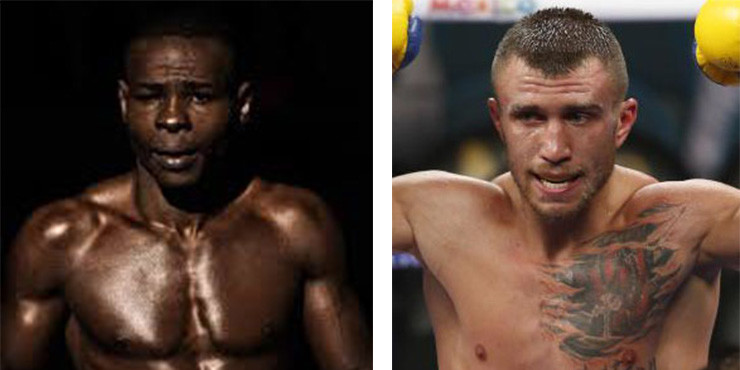 Several Social media networks have reported that a bout between WBO Featherweight champion Vasyl Lomachenko (4-1, 2 KOs) of the Ukraine and WBA super bantamweight champion Guillermo Rigondeaux (15-0, 10 KOs) of Cuba is in discussion. The proposed bout is being discussed for this coming fall possibly on the undercard of WBO Welterweight champion Timothy Bradley against his mandatory Sadam Ali. This could be possibly be the first time in boxing history that two former two time Olympic gold medalist face off against each other with both being world champions.
Each guy has been on the face track as professionals with both becoming world champion with less than 10 fights. They both have a signature win at this early stage of their careers. Lomachenko soundly defeated an unbeaten and highly touted Gary Russell by unanimous decision to win his world title. Rigondeaux did the same against the biggest name in the division Nonito Donaire in their unification bout.
This would be a serious challenge to both fighters. This is a battle of skills at the highest level. It is definitely more favorable to be watched by boxing purists than those more interested in your average slugfest. These two put inside of a ring together will not be providing the latter. That is just not who they are. This has all the makings and expectations of a real chess match.
It is really hard to give either guy a significant edge against the other. Lomachenko fights at the higher weight class 4 pounds north but this doesn't seem to be a major factor.  Lomachenko has tasted defeat in a closely contested loss to the much more professionally experienced Orlando Salido. Lomachenko seems to have improved since that defeat. Rigondeaux is unbeaten but has been down in his career most recently twice in his last fight vs. HIsashi Amagasa of Japan. This could have been a combination of Rigondeaux underestimating Amagasa and Amagasa fighting the fight of his life. This happens a lot in boxing. Call it a fighter having a Rocky Balboa underdog performance for a night. In the end Rigondeaux came back and stopped Amagasa and that's all that really matters. Both sides seem to want to make the fight a reality so let's hope they can come to an agreement to make such a major matchup happen.
---