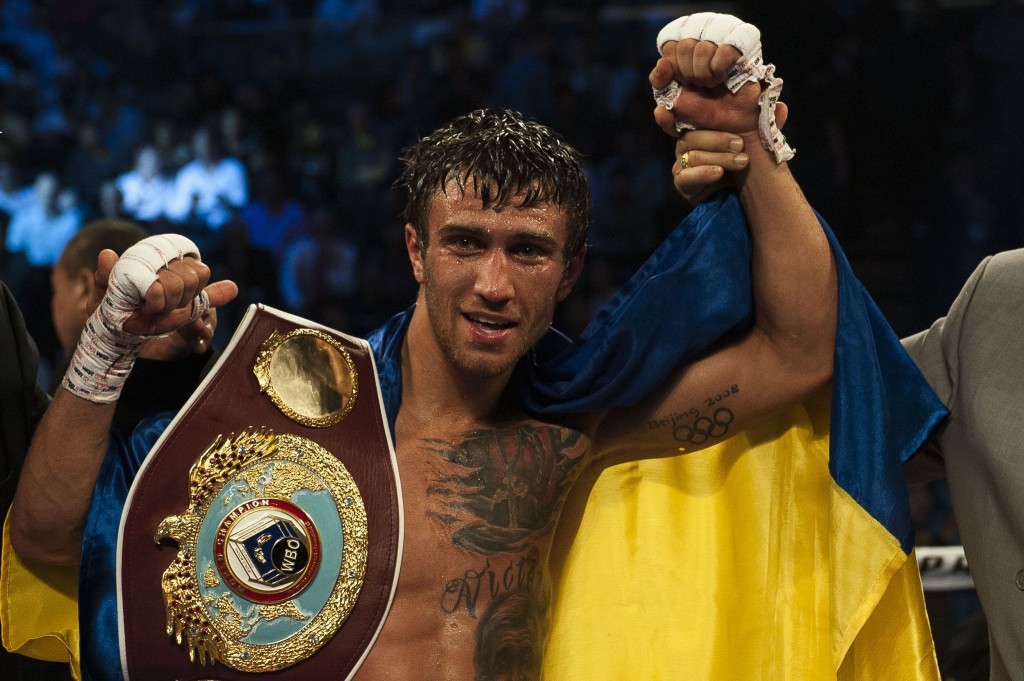 Vasyl Lomachenko (3-1, 1KOs) with just four professional fights has already achieved what many fighters don't with 10 times as many fights. He won his world title in just his third professional fight. It was a dominating performance by Lomachenko. Totally shut down the highly talked about hand speed of Gary Russell Jr. in route to winning the vacant WBO Featherweight title June 2014. Since winning the world title he has gone on to defend his title on the Manny Pacquiao vs Chris Algieri ppv this past November. If fighting in front of a live audience on that stage wasn't big enough he has now landed a slot of arguably this biggest fight in boxing history. Lomachenko will be defending his world title for the second time against number one rated contender and Top Rank promoted stablemate Gamalier Diaz. The bout will be on the televised portion of the Mega showdown between Pound for Pound unbeaten world champion Floyd Mayweather vs Pacquiao May 2nd.
Lomachenko is just 27 years of age but success for him boxing at the highest level has become very common now. In amateur sports the pinaccle for those athletes is to represent their own country in the Olympics. Mind you that it is a difficult task in itself just to beat out your own countryman to earn a spot on the team let alone go on to even medal in the actual Olympics. Lomachenko won the gold in two different olympics for his native Ukraine in 2008 and 2012 prospectively. Outside of Cuba which is known for his outstanding boxing program this is a very rare feat.
Lomachenko was heavily courted coming out of the amateurs which was to be expected. In 2012 following the olympics he made the decision to enter the AIBA (World Series of Boxing) WSB. There he would sign with his countries' local team the Ukraine Otamans. The WSB is a professional international boxing competition that allows the pro boxers to keep their Olympic eligibility. The big difference between them and regular amateur boxing is that the fighters must be shirtless and cannot wear headgear. Lomachenko went 6 and 0 in the league. This sparked a bit of a contraversy as Fightfax which is boxing's official record keeper counted those fights as official professional fights on the record of Lomachenko.
After his short stint in the WSB Lomachenko decided to enter the more traditional professional ranks and in 2013 he would sign with Top Rank. In just his second fight with company he would challenge veteran WBO world champion Orlando Salido. Salido entered the fight as a 12 year veteran of more than 50 fights and a two-time world champion. Salido still was a heavy underdog to be defeated by Lomachenko. It wasn't a thrilling fight as Lomachenko had a lot of problems with Salido's tricky veteran tactics. Something he for sure didn't see in the amateurs. Salido would go on to decision Lomachenko and hand him his first loss as a pro on any level.
Since Salido didn't make weight in his fight with Lomachenko his title remained vacant. This opened up the door for Lomachenko to fight and defeat Russell for the very same title in his next fight. Whether you recognize Lomachenko's fights in the WSB or not he still has quite the resume for a fighter with no more than 10 professional fights. The scary thing for others in his division is that he can still actually improve. He couldn't ask for a better stage to hone his skills than the one he will be provided with on May 2nd.
---