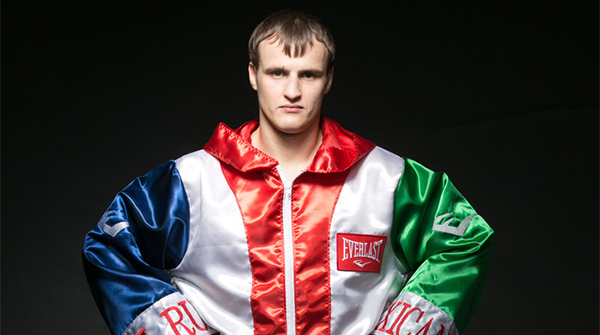 Evgeny Gradovich (19-0-1, 9 KOs) is unbeaten and the current IBF featherweight champion of the world. He is in one of the most talented  divisions in boxing yet he is virtually unknown to some of the hardcore fans let alone the casual boxing fans. One reason for this that Gradovich has not been able to land a fight with one of the bigger names inside the division. In 2014 WBA featherweight champion Nicholas Walters had a breakout year knocking out Vic Darchinyan and Nonito Donaire in back to back victories. Walters was about as known as Gradovich prior to those wins.  Walters made the most of his opportunities and his career is now taking off to much bigger heights.
The good news for Gradovich is that Walters, Donaire, Darchinyan, and WBO featherweight  world champion Vasyl Lomachenko are all promoted by Top Rank as is Gradovich.  Lomachenko in fact has the same manager as Gradovich. A unification and or a fight vs. a named fighter like the ones mentioned above on HBO would do a lot to broaden Gradovich's notoriety. If he were to win of course. His style for sure is not an issue. His nickname the Russian Mexican is fitting. Gradovich's style doesn't showcase much of an old school soviet union background at all. He fights straight ahead forward going toe to toe similar to the style of fighting of many Mexican fighters. It is very exciting and crowd pleasing. This was exhibited in his world title winning victory over Billy Dib in March 2013. It was Dib's first world title defense under his promoter famed rapper 50 cent. The bout was aired on ESPN2 Friday Night Fights.  50 cent actually took the spotlight as he rapped during Dib's ring walk. It was a closely contested bout with Gradovich winning a split decision and his first world title.
Gradovich's next three fights would end up on Top Rank televised undercards in China. One of those fights would be the rematch with Billy Dib. Gradovich would stop Dib this time around in convincing fashion. In Gradovich's last fight he took on unbeaten Jayson Velez of Puerto Rico.  The fight was very entertaining and featured many thrilling exchanges between both fighters. In the end the official decision was a draw. Gradovich retained his title but the main event hometown fighter Terrance Crawford would end up garnering most of the attention. Crawford, another Top Rank promoted fighter decisioned a very game  Raymundo Beltran. This took away a lot of the buzz that Gradovoich has created from his fight in the televised co-feature vs. Velez. Ironically Crawford's victory that night would end up being the icing on the cake for him being voted fighter of the year.
Gradovich's next fight is no gimme. He will travel to the UK to face local Lee Selby. It's not that Selby is not beatable but more of the fact that fight is on the road. Gradovich is not a big puncher but more of a pressure fighter that can wear you down. The problem is that defense is not a strong point for Gradovich. In a close fight Selby could take his title on points. This fight will not be aired on any U.S. premium network nullifying valuable exposure were he to win in spectacular fashion. It's a tough situation for Gradovich but one he needs to come out retaining his title in order to get that elusive big fight in the near future.
---