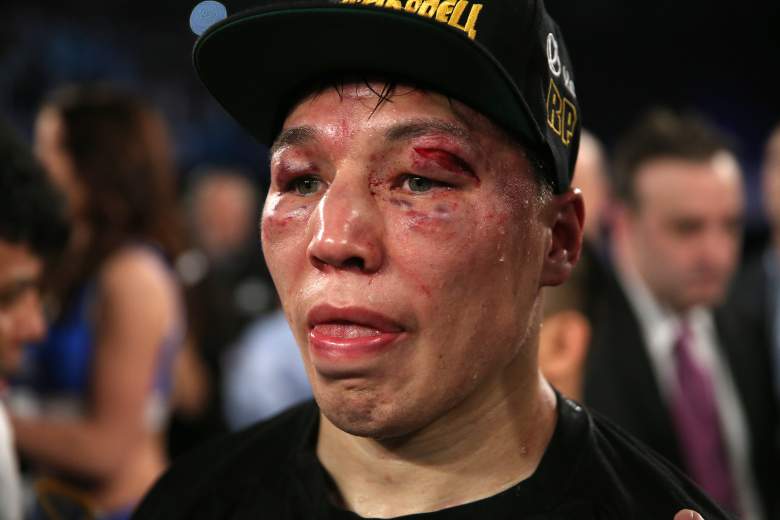 Former world champion Ruslan Provodnikov (24-4, 17 KOs) is just weeks removed from his exciting fight with Lucas Matthysse. Both fighters entered the bout known as serious punchers which is what had the fight so eagerly anticipated by fans and media. It would be Matthysse ability to box and Provodnikov's lack of that was the difference in the fight. Matthysse would go on win a close but deserved points decision. The bout was still exciting because Matthysse being a natural puncher still mixed it up which allowed Provodnikov to come on strong albeit too late in the second half of the fight. It was a very intelligent gameplan that Matthysse' team put in place for him to carry out. It was Provodnikov who had Matthysee hurt toward the end of the fight. It left the impression that had Matthysse chosen to just slug with Provodnikov he could have ended up being stopped.  Provodnikov took a lot of punishment throughout the fight.  His face was left a complete mess but amazingly he was never really hurt or in any danger of even being knocked down.
Many who tuned in to watch the fight are all for a rematch. Matthysse it seems is ready to move on to another challenge as he is now in line for a shot at the WBC 140 pound title. This is not the end of the road for Provodnikov as he has many options. There are some major factors in his favor. He is not in a promotional situation that would prevent him from fighting a top fighter. He also can fight from 140 to 147 which opens up so many more fights for him. Provodnikov is going to be a tough fight for most. In his 4 losses he has had his moments in all of those fights  inflicting visible physical damage on all those opponents in those fights.  Provodnikov has a way of getting his opponents to mix it up at some point. Provodnikov is so easy to hit that it can be hard for his opponents to resist not to tee off on him even though by doing this they put themselves at risk.
Terrance Crawford fought on the same HBO telecast as Provodnikov-Matthysse but at a different location. Crawford actually won Provodnikov's old WBO 140 pound belt which was vacant. He impressively stopped Thomas Dulorme. A fight between Crawford and Provodnikov  would appear to be an easy fight to make with HBO likely to televise. It would be interesting to see if Provodnikov would be able to force Crawford into some uncomfortable moments. Crawford has been mowing down the competition with very little resistance thus far. This is no knock on Crawford. He is just that good. Provodnikov vs. former world champion Brandon Rios could actually end up being better than Provodnikov's fight with Matthysse. Rios is likely going  to trade much more and likely from the opening bell. Provodnikov deserves a nice break following his last fight. A fall classic between he and Rios at the StubHub Center in southern California would be a can't miss thriller. This was the site of his 2013 fight of the year with former world champion Timothy Bradley. Bradley-Provodnikov II is a fight that would interest many since Bradley was down in the fight but went on to win a close points decision.
These are just a few fight possibilities that Provodnikov could see himself possibly in. The bottom line is his losing to Matthysse didn't hurt him at all. It actually left the fans wanting to see more. You see Provodnikov definitely has a weakness for being out boxed in periods of a fight but always seems to get his opponent to engage at some point tilting things in his favor for at least moments in the fight. This is what keeps fans wanting to see more of Provodnikov. He closes fights so strongly leaving the impression that had there been one more round he could have reversed some of his losses. Provodnikov also showed in his last fight that there is no slowing down in him as of yet. His face did not tell the full story of how fresh he still looked attempting to stop Matthysse in 12th and final round. Provodnikov proved without a doubt that he makes for exciting fights or at least memorable moments regardless of who he is fighting.
---