Boxing History: June 3, 1908 Stanley Ketchel W 10 Billy Papke, Milwaukee.
Ketchel retains World Middleweight Title.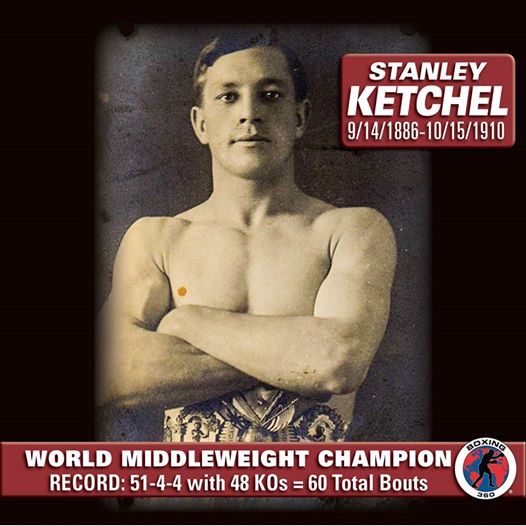 One of the real "characters" of boxing, Stanley Ketchel was a fearless man whose personality was perfectly reflected by his in-the-ring savagery and dramatic life. The first two-time middleweight champ of the gloved era, he is also considered to be possibly the hardest hitting of all middleweight champions. An unpolished brawler who loved to test an opponent's will to fight, the "Michigan Assassin" faced four hall of famers during his career, some of history's best middleweights, light heavyweights, and heavyweights included among them. Nat Fleischer, the late ring historian and founding editor of The Ring magazine, considered Stanley to be the greatest middleweight in history.
Born Stanislaus Kiecal to Polish immigrants in Grand Rapids, Michigan, Ketchel was a rough, tough brawler even as a youth. He avoided school, instead falling in with a gang of street kids and often getting into fist fights. At twelve years old, he ran away from home, becoming a child hobo. As a teenager he lived in Butte, Montana, where he found employment first as a hotel bellhop and then as a bouncer. This profession obviously led to many scraps that established his reputation as the best fist fighter in town. Soon enough sixteen-year-old Stanley was performing in backroom boxing matches with older locals for twenty dollars a week. He began traveling throughout Montana, offering to take on any man brave enough to face him. Between 1903 and 1906, he lost just twice in thirty-nine contests and, in 1907, moved to California, where he knew most of boxing's big names and big fights waited for him.
Stanley continued to win in California against an ever-increasing quality of opposition. On February 22, 1908, he took on his most dangerous opponent yet, Mike (Twin) Sullivan, one of the leading welterweights and middleweights of the era. Ketchel flattened him in less than a round and then fought Mike's brother, Jack Sullivan, for the vacant world middleweight championship. Jack lasted twenty rounds but was eventually knocked out and Ketchel was named the new titleholder. Less than a month later he made his first defense, beginning his three-fight rivalry with Billy Papke, the determined and rugged "Illinois Thunderbolt." On June 4, 1908, in Milwaukee, Wisconsin, Ketchel won a ten round decision over future hall of famer Papke. He then went on to knock out contenders Hugo Kelly and Joe Thomas before facing Papke again in a rematch on September 7, 1908. Papke dominated the fight and badly hurt Ketchel in the twelfth round, forcing the referee to stop the fight. Determined to regain the championship, Ketchel went immediately into a third fight with Papke on November 26, 1908 in Colma, California. In the eleventh round of a terrific brawl, Ketchel knocked his man out and became the first two-time middleweight champ.
After three hard fights with one hall-of-famer, Ketchel went directly into a fight with yet another, Philadelphia Jack O'Brien, who was the reigning light heavyweight champion of the world at the time. In a much anticipated non-title fight held at New York's National Athletic Club on March 26, 1909, Ketchel survived a terrible beating at the hand of the slick, quick O'Brien in the early rounds only to mount a terrific comeback and score four knockdowns in the ninth and tenth rounds. When the final bell rang at the end of the tenth round, O'Brien was lying unconscious on the mat, his head in a resin box in his corner. Under New York rules at the time, though, O'Brien had been saved by the bell and because official decisions were outlawed in New York boxing the fight was declared a "No Decision." The rematch, held on June 9, was a different story. Ketchel demolished O'Brien inside of three rounds. A fourth fight with Billy Papke followed, with Ketchel again winning out in a tumultuous slugfest to defend his championship. This fight took place in the outdoor Mission Street Arena in Colma, California, during a terrible thunderstorm, yet neither fighter relented in his pursuit of victory until Stanley took the twenty-round decision.
The Johnson Fight
Ketchel was by now possibly the most universally admired active prizefighter in America. Meanwhile the reigning heavyweight champion at this time, Jack Johnson, the first black man to win that title, had stirred up a cauldron of controversy and was very likely the most universally despised man in the country, regardless of profession. Though Ketchel and Johnson were good friends, many called for a fight between the two with hopes that Stanley would return the heavyweight crown to the white race. On October 16, 1909, at the Mission Street Arena, Ketchel proved himself one of the pound-for-pound hardest punchers in the history of the sport. Though Johnson got the better of the action by using his greater size (Ketchel was at a twenty-five pound weight disadvantage and nearly a four-inch height disadvantage), Stanley caught Johnson with a hard right hand in the twelfth that put the champion on the floor. All hopes of glory for Ketchel were squashed however, when Johnson immediately rose to his feet and dispatched the challenger with a left-right combination to the jaw. Ketchel went completely unconscious and was counted out on his back.
Later Career and Death
Inspired by his knockdown of Johnson, Ketchel began almost immediately campaigning for a rematch. On March 23, 1910 and overconfident Ketchel, still the world's middleweight champ, fought up-and-coming middleweight Frank Klaus in Pittsburgh, Pennsylvania. Stanley had failed to train properly and was lucky the fight was scheduled for just six rounds. Pennsylvania law outlawed boxing decisions but the newspaper reporters who witnessed the fight declared it a draw, with Klaus dominating the early rounds and Ketchel narrowly taking the second half of the fight. It was a similar story just over a month later in Philadelphia when Stanley fought one of cleverest and hardest-hitting boxers of his generation, Sam Langford. Again the fight lasted the six round distance and resulted in an official "No Decision." Langford was said to take the early rounds and Ketchel the later ones. Most at ringside felt that both men gave a good account of themselves in the brief, but hard-fought, contest.
On October 15, 1910, while still trying to secure a rematch with heavyweight champion Johnson, Stanley Ketchel was in training at a cattle ranch in Conway, Missouri. That morning he was shot in the chest by ranch hand Walter Dipley, who was allegedly jealous of his girlfriend's (Goldie Smith) attraction to Ketchel, though some suspect the murder was a robbery on the part of Dipley and his girlfriend. A bullet in his lung, Ketchel was dead at age twenty-four. At Stanley's funeral one mourner said, "Start counting over the dear boy. He'll get up."
In 1990, the legendary fighter was part of the inaugural class of inductees into the International Boxing Hall of Fame.
---