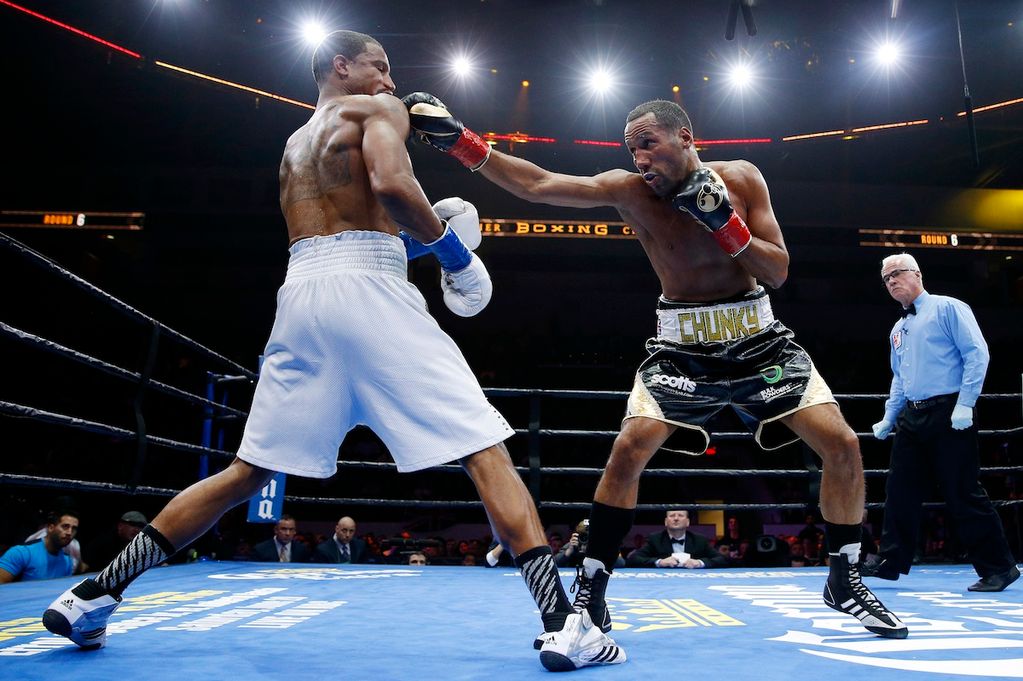 James DeGale (21-1, 14 KOs) successfully won the vacant IBF super middleweight title this past Saturday by way of unanimous decision over Andre Dirrell (24-2, 16 KOs). The fight turned out to be much more exciting than many had expected. Both fighters made sure of this as they took turns at being the aggressors. DeGale got off to a real good start dropping Dirrell twice in round 2. Dirrell would remarkably reverse the tide and dominate the middle and some of the later rounds. In the end the hole Dirrell found himself in from the two knockdowns was too much to overcome. DeGale is a former Olympic Gold Medalist. He made history for his country as he is the first British fighter to win an Olympic gold medal and a world title in professional boxing.
Dirrell was not in agreement with the decision as he feels he won the fight,. He is actually still in a pretty good situation being that he is advised by Al Haymon. The tv dates are in abundance these days for Haymon advised fighters.  He could back in action by the early fall and in a significant fight should he choose. The reality is that he can still beat most at 168 and perhaps even DeGale on the right night. Convincing a world champion to fight him without him being the mandatory could be a difficult task. However, there is a good amount of financial support behind Haymon's current Premier Boxing Champions series. So its not totally out of the question that one of the divisions' champs will give him an opportunity.
DeGale has many options available to him now that he is the champion. His promoter Matchroom Boxing is neutral so no promotional roadblocks to stop any major fights from happening. He has earned the right for sure to have his first world title defense at home should he choose to do so. He could certainly defend there in a voluntary defense before the year is out.  DeGale could also look to avenge his only career loss which was to domestic rival George Groves earlier in both their careers. Groves will next fight newly crowned WBC Super Middleweight champion Badou Jack. If Groves were to win that fight then a rematch with DeGale is that much bigger being that it would be a unification.
A rematch between DeGale and Dirrell is not likely to happen anytime soon if at all. DeGale's side will likely want the fight in the UK and rightfully so.  Dirrell lost a very close decision to Carl Froch in the UK some years ago and probably wouldn't want to fight DeGale there. Dirrell could try and get himself into a mandatory position again which would likely take him at least year or so to do. The way boxing is who knows if DeGale would still even be the champion at that point.  The bottom line right now is that DeGale the champion has a lot of lucrative options that don't include a rematch with Dirrell. He won his world title the hard way. He went into the country of his opponent and won a decision. It's only fair that he be able to seek out the best possible options for his next fight. Time will tell which direction he will go for his first title defense.
---