Boxing History: December 15, 1966 Dick Tiger W 15 Jose Torres, NYC. Wins World Light Heavyweight Title.
The 37-year old Tiger captures his second world title by scores of 10-5, 10-4-1, and 8-6-1.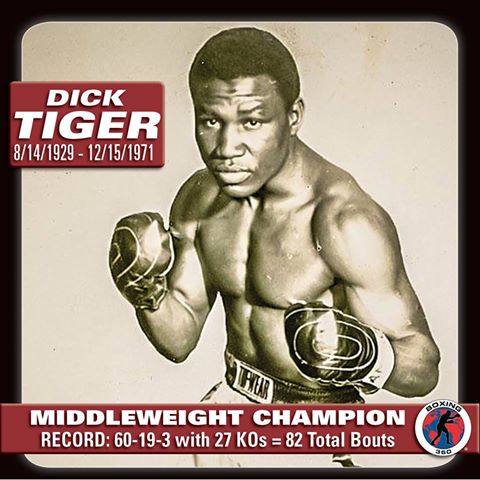 Dick Tiger, a gentle lunch pail workman challenged Jose "Chegui" Torres for the title. Tiger wasn't supposed to win. The odds were stacked against him. He was going in against a man who had the height, weight, and reach on his side. And then, there were the speculating whispers that at 37, Tiger's best days were already in the pages of history.
Dick Tiger CBE (born Richard Ihetu August 14, 1929 – December 14, 1971) was a boxer from Ubahu village, Amaigbo, Nigeria, who emigrated to Liverpool and later to the United States of America. Tiger was a member of the Igbo ethnic group Tiger was a talented boxer, commercial venturer and Biafran rebel.
Dick Tiger was one of the greatest fighters to come out of Africa. He became a two-time undisputed world middleweight titlist and helped keep boxing alive during the 1950s boxing industry recession. Tiger earned an undisputed Light-Heavyweight world championship. In 1962, Tiger won the world middleweight boxing championship.
On May 20, 1965, Tiger floored Rubin "Hurricane" Carter three times and won a unanimous 10-round decision. Tiger took on Gene Fullmer and won the world's Middleweight title by decision in fifteen. Later in a rematch he drew in fifteen and in the rubber match won by knockout in seven rounds.
Tiger was an "in-house fighter" at New York City's Madison Square Garden.
After retiring from boxing, Tiger worked as a guard at the Metropolitan Museum of Art in New York. One day, he felt a strong pain in his back. Tested by doctors, he was diagnosed with liver cancer. Tiger had been banned by the Nigerian government in his country because of his involvement in the Biafran movement; however, the ban was lifted immediately after news about his condition arrived in Nigeria.
He died of liver cancer on December 14, 1971; he was 42 years old.
Dick Tiger vs. Jose Torres, NYC. December 15, 1966
---