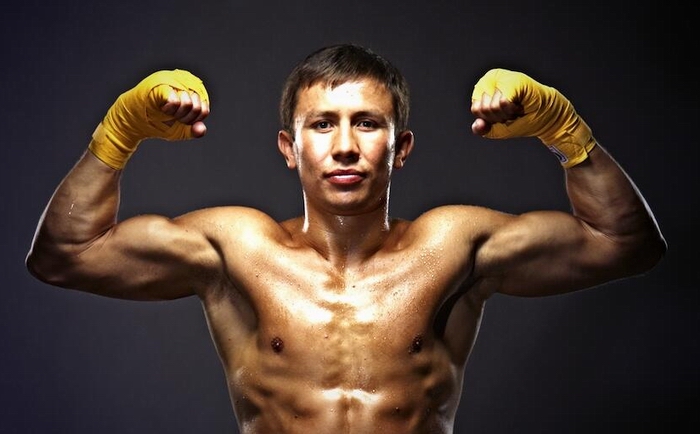 When unified world champion Gennady  "GGG" Golovkin (31- 0, 28 KOs) was a guest at a recent boxing show in the Los Angeles, California area he was swarmed by tons of fans in attendance the entire night. Golovkin graciously signed autographs and took several pictures embracing his new found fame.  A few years earlier he may have attended this same venue and gone relatively unnoticed. This was a telling sign that he has crossed over to star status  Superstar status could possibly be on the horizon should he stay on course. He has the catchy nickname,  boyish looks,  he is humble, and delivers knockouts.
Golovkin is a prime example of a fighter making himself marketable with his performance in the ring. Some fighters try different marketing strategies and gimmicks to become more popular with the fans. Golovkin is doing it the old fashion way. How you ask? Simply Knocking his opponents out. The reality of the situation is fans both hardcore and casual  love to see Knockouts. This just happens to be something  Golovkin specializes in. Golovkin has one of the highest knockout ratios in the history of boxing which is quite an  elite and exclusive group.
When Golovkin made his U.S. and HBO network debut in September 2012 he wasn't well known by many including some hardcore fans. It didn't take long for him to get the viewer's attention as he dropped Grzegorz Proksa (28- 1, 21KOs) of Poland 3 times in route to the 5th round TKO victory. The subsequent 5 fights that followed on HBO have all  been knockout victories.   In fact Golovkin has not had a fight go the distance since 2008 and is riding a 18 fight knockout win streak.
Some in the U.S. viewing audience are just recently  learning about Golovkin . His talent has been known in Europe for years. Golovkin was a standout amateur defeating several solid amateur fighters. Three of whom went on to win world titles as pros. Golovkin himself won the Middleweight Olympic Silver Medalist as a member of the Kazakhstani Olympic Team. Which is his native country. Upon turning pro he had his first 17 fights in Germany and was rapidly moving up in the rankings.  At the time German Felix Sturm was considered by most in Germany as the best of the world champions at 160. Golovkin never secured a fight with Sturm leading some to believe Golovkin was being avoided.
His next fight with Martin Murray by some is perceived to be his toughest fight to date though the odds would suggest different. Murray is a whopping +1400 underdog at some sports books to the favorite Golovkin who is -2500 to win February 21st in Monaco,   Murray has fought tough but the reality is that he has not been able to win at the next level. He fought Felix Sturm to a draw in Sturm's native Germany in 2011. Then in 2013 he gallantly fought Sergio Martinez in the latter's native Argentina. He managed to drop Martinez but lost a close decision. Neither Sturm nor that version of Martinez is the complete package that Golovkin is.   No questioning Murray's heart but his come forward style is just the right fit for what GGG specializes in.
---