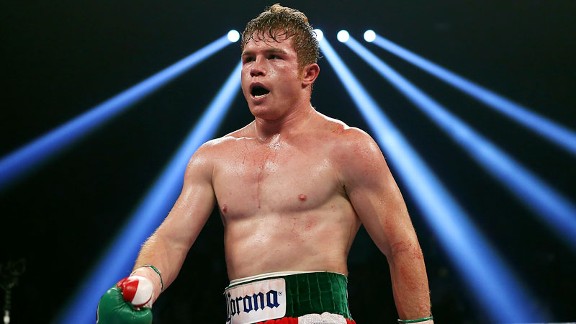 ALVAREZ ANNOUNCES HIS NEXT FIGHT, ONE IN THE RING, ONE OUTSIDE OF IT.
When it rains it pours when news out of the "Canelo" camp is concerned.  Earlier this week the twenty-three-year old former WBC and WBA super welterweight champ Saul Alvarez announced that he will make his triumphant return to the ring on July 12th, again on Showtime PPV.  In his last fight, Alvarez completely dominated a confused and spent Alfredo "Perro" Angulo last March 8th in Las Vegas.  The bout marked two firsts for Alvarez, the first fight since suffering his first pro fight and his first time as the "A" side of a PPV event.  Alvarez suffered his first loss at the hands of pound for pound king Floyd Mayweather Jr.
On his Instagram Alvarez announced that he was pushing up his July date from the twenty-sixth to the twelfth.  Rumors abound that "Canelo" and his promoter Golden Boy Promotions want to get first dibs at the PPV dollar for the month of July since it is said that the much anticipated fight between former WBC middleweight champion Julio Cesar Chavez Jr and current middleweight champion Gennady "GGG" Golovkin is scheduled for July 19th.  The Chavez Jr-Golovkin super middleweight bout is presented by Top Rank and K2 Promotions on HBO PPV.
In his announcement Alvarez mentioned that the first on his list as possible opponents is WBA super welterweight champion Erislandy "American Dream" Lara.  Lara, also promoted by Golden Boy, is scheduled to defend his title against former champ Ishe Smith on the eve of Mayweather-Maidana in Las Vegas.  Win a win there it is almost automatic that the Cuban amateur stand out will face Alvarez who he publicly called out on the post-fight press conference after "Canelo" stopped Angulo in ten rounds.
Alvarez and Lara share two opponents in common, the aforementioned Angulo and Austin Trout.  Both stopped Angulo in ten rounds with Alvarez having a much easier time with the Mexicali fighter while Lara going down twice before forcing Angulo to turn his back after his left eye swelled up to the size of a lemon.  They both have beaten former champ Austin Trout with Lara in a more convincing fashion with a unanimous decision with scores of 118-109 and 117-110 twice.  Alvarez also earned a unanimous decision but with scores of 118-109, 116-111 and 115-112 in a much closer fight that the scores reflect.
To hit the Alvarez sweepstakes, Lara must still beat former champ Smith who lost his title last year against Carlos Molina in his first defense.
If that wasn't enough Alvarez also announced on his social media accounts that he will no longer work with the mega Mexican tv network Televisa.  Televisa is the company who pushed Alvarez in the very important Mexican market and helped make him the name he is today.  It is said that Alvarez is upset over an article written by a Televisa-owned magazine that claims he used former world champ Javier Jauregui as a sparring partner late last year.  The article claimed that despite Juaregui's age of forty, Alvarez would not let up and beat him to a near pulp.  Jauregui suffered a stroke last December and passed away a day later.  It is said that Alvarez is furious at the article which he says is unfounded and even more upset at Televisa who backs the magazine.
Despite the issues, at the end it is all about the bottom line since Alvarez owns the TV rights to his fights in Mexico and I am sure Televisa, one of the biggest if not the largest company in Mexico, will make him a hefty offer to forget his anger over the Jauregui debacle.
---