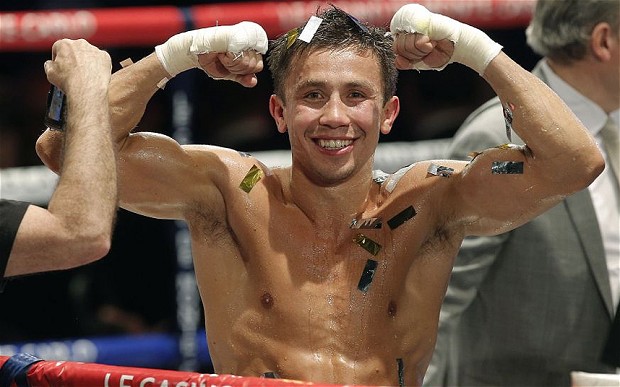 Beating his drum louder than a native American calling for an emergency pow wow, Cuban Erislandy (19-1-2, 12KOs) Lara let the four winds know that despite anybody and everybody with a name and a near undefeated record between the weights of 154 and 160 pounds has been avoiding the current most feared man in boxing, Gennady Golovkin (29-0, 26KO), he was more than willing to face him next.  Golovkin, who is coming off his sixteenth straight win by stoppage, this time over tough but over matched OsumanuAdama this past February 1st, is slated to return on April 26th somewhere in the United States, more than likely on the east coast.
A rarity in current boxing, the thirty-one year old Golovkin is one of the few fighters, let alone champions, who perform more than twice a year and will not allow for his scheduled activity to be determined by open dates by the most powerful network in the sport, Home Box Office, better known as HBO.  Golovkin performed four times last year, three of those in the United States with wins over Matthew Macklin, Curtis Stevens and Gabriel Rosado.  The fourth was in Monte Carlo where he scored a knockout of the year candidate over former James Kirkland conqueror, Nobuhiro Ishida.
After a HBO date was not available in the first quarter of the year, K2 Promotions who promotes Golovkin did not let up and set the WBA middleweight title defense against Adama.  The network, who has an exclusive contract with the former amateur star, attempted to broadcast the fight on their HBO2 channel but after some disagreements with the organizers in Monte Carlo, it did not happen.  By that Monday, the April 26th performance was announced.  With Golden Boy banned from the network, the pickings for Golovkin's next opponent are slim with Irish man Andy Lee leading the way.
Cue in Erislandy Lara.
Lara, a Cuban amateur star, has not had an easy way to the top.  Because of his high risk/low reward boxing style, Lara is not as sought after as Golovkin who almost guarantees a knock out every time out.  While Golovkin has fought five times since January of 2013, Lara has only performed twice in the same time with an impressive ten-round TKO over Alfredo Angulo and an even more impressive domination of former champ Austin Trout last December.
Lara called out GGG, as Golovkin is known, where else? On Twitter but his manager soon after assured that Lara was not kidding, that he was willing to face Gennady.  Just as soon as the tweet went out, it was shot down by K2 Promotions citing the fact that Lara, since promoted by Golden Boy, is not allowed on HBO.  Tom Loeffler, president of K2, stated they had never considered Lara an viable opponent and if he were to defeat the likes of Peter Quillen, then they would consider the Cuban.
Interestingly, WBC middleweight champ Sergio Martinez, who is almost set to fight Miguel Cotto in his return bout on June 7th in New York, has publicly stated that once he knocks out Cotto, he would focus on an unification bout with Golovkin.
Will K2 turn up their nose to that?
---