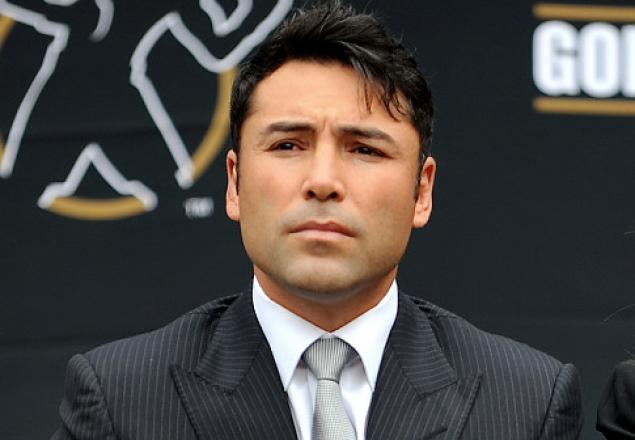 There is no stop in Oscar De la Hoya.  As a fighter, he fought the best en route to title in multiple divisions.  In the twilight of his career he not only fought Manny Pacquiao in his last pro fight but also passed the highest selling Pay-Per-View baton to none other than Floyd Mayweather Jr before retiring.  Outside the ring De La Hoya has also been a warrior, from facing scandals mostly head on to batting drug and alcohol addictions.  Now as a promoter he has entered another battle that he is facing with his head held high.
The saving of his company.
For the better part of ten years as Oscar was battling a cocaine and hard liquor habit, De La Hoya left the day-to-day operations of Golden Boy Promotions to his former CEO Richard Schaeffer.  A former Swiss banker and brilliant businessman, Schaeffer brought in new sponsors and made lucrative TV deals that made Golden Boy grow by leaps and bounds.  There were some casualties in the rise such as alienating Bob Arum and getting banned from HBO.  Despite of that Schaeffer had an ace in his pocket, Al Haymon.
The reclusive advisor brought the talent and Schaeffer made them stars by using his nearly exclusive agreement with cable network Showtime to put them on the air.  It didn't hurt either that Haymon is the key to one Floyd Mayweather Jr.  Through that connection, Golden Boy Promotions got a piece of the biggest platform in the sport.  Everything seemed golden at Golden Boy Promotions.
Then came rehab.
De La Hoya was able to conquer his demons and found himself with a new found enthusiasm for the company that he founded earlier this century.  He wanted to do things his way and that didn't sit well with Schaeffer.  Schaeffer tended his resignation and after a nearly year long legal battle and a multi-million dollar payoff, Haymon, loyal to Schaeffer, took his fighters with him.
That is where this new battle for the "Golden Boy" begins.  In Schaeffer's dealing with Haymon he either forgot or simply didn't care in securing promotional contracts with the majority of the fighters Al represents even though they were featured during Golden Boy dates on Showtime and other platforms.  When the devious duo walked on the "Golden Boy", they took with them the majority of the most popular fighters in the Golden Boy stable.  From Adrien Broner to Danny Garcia, Marcos Maidana and Leo Santa Cruz, Abner Mares to Amir Khan.  How De La Hoya must start anew in a sense.
Recently De La Hoya, ala Haymon, went on a signing spree picking up new talent to fill up their obligations with a number of smaller networks such as Fox Sports.  De La Hoya still retains one of the most popular fighters in the sport, Saul "Canelo" Alvarez, and a renewed relationship with not only Bob Arum but also HBO.
Presently Golden Boy Promotions is not as strong as it was eighteen months ago in the boxing market, Al Haymon and company are making what looks like all the right moves in securing platforms for their fighters, but De La Hoya has proven that he won't go away without a fight.
---