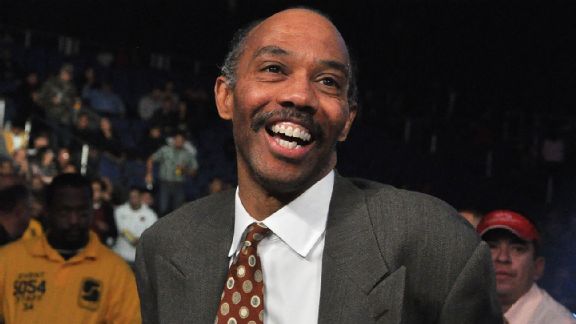 You almost don't even bat anymore when it is announced through various boxing news outlets that hermit-like advisor Al Haymon has signed a new fighter to his ever growing stable.  Just this week it was announced that not only he has signed east coast amateur standout Milton Santiago but also current IBF super welterweight champ Carlos "King" Molina.
The Santiago signing makes sense but Molina?
Santiago, a seventeen year old of Puerto Rican descent, made history when he debuted in his home state as a rookie at the age of seventeen.  Acquiring Santiago makes sense.  Great amateur pedigree with ties to Puerto Rico, one of the most loyal fan bases in the sport, and only seventeen so enough time to develop him is nearly a no-brainer.
The one that causes some head scratching is the signing of Carlos Molina.  The thirty-year-old has just finished a two-month stint in a Las Vegas, NV, jail. Molina, who won his title back in September with a split decision over Ishe Smith, was only days away from defending his title for the first time when he got arrested in Las Vegas due to some outstanding warrants.  Molina was wanted by the Wisconsin law for not registering as a sex offender after being found guilty of statutory rape.  Once in jail, it was discovered that Molina has an immigration hold since he was deported back in 2006.  Molina quickly found himself back in the states and fought roughly nineteen times since entering the country illegally. Upon his release some weeks ago, Molina was deported once again and found his way to Mexico City and is now training.  It was announced that he was looking to defend his title as soon as July while his promoter Leon Margules and their lawyers are looking for ways to bring him back to the United States.
Now it Haymon has signed him.  It is obvious why Molina would put his name on the dotted line since Haymon represents for all his clients their best bet in guaranteeing the best purses of their careers.  The question here lies is why would Haymon bother with Molina, even if he is the current IBF champ, when he pretty much has his pick of the boxing litter?
What Haymon brings to the table for his fighters is TV.  Haymon is a master in cozying up with network executives, whether it is HBO or Showtime, and along with healthy purses also can assure exposure, which can bring popularity.  The funny thing here is that Molina has never been considered a fighter with a TV friendly style.  Known for his lack of KO power, only six KOs in twenty-nine fights, and a hard to watch smothering style, Molina is not exactly what you would consider a flashy fighter.
Can Haymon be only interested in Molina more for the IBF strap and not the actual fighter? Although many fight fans and media might turn up their nose at the alphabet belts but the TV networks sure don't since they expect for practically every fight on their airwaves to be for some type of title.  Haymon might see enough value in Molina right now as long as he keeps that strap around his waist.  Now that Haymon is not adverse in matching two of his fighters against each other, then he might have taken a page out of the Don King book of promoting and decided that he would get to the fight and leave with the champion, no matter if the best exchanges hands.
---