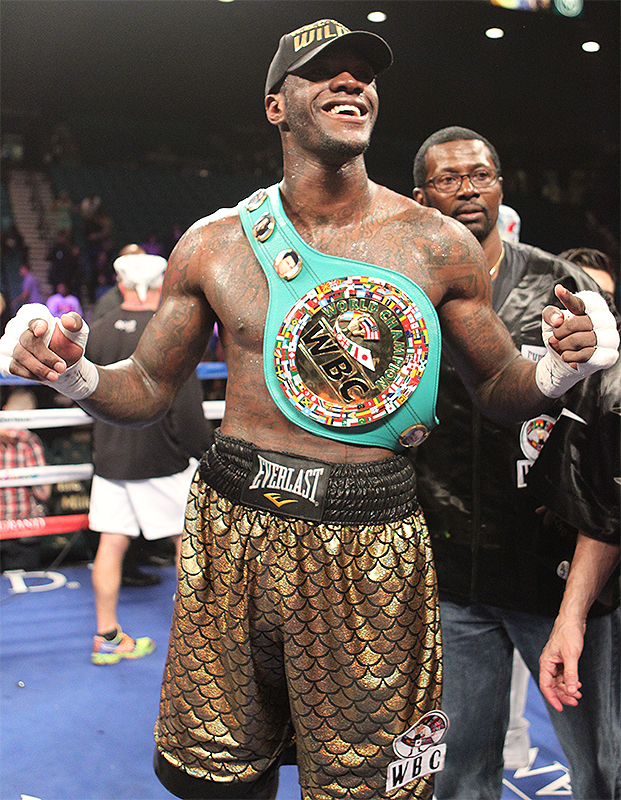 It's been nearly 2 months since Deontay Wilder (33-0, 32KOs) defeated Bermaine Stiverne to win the WBC Heavyweight championship. Entering the fight there was so much talk of Wilder's lack of competition up to that point, his chin and stamina. Wilder answered all those questions on that night. He completely dominated a very solid fighter in Stiverne in route to a unanimous decision victory over 12 rounds. Stiverne would become the first pro opponent who would not be knocked out by Wilder. Stiverne was still hurt various times throughout the fight showing that Wilder's punching power is real.
Option 1
Now that he has proved many doubters wrong there is a lot of anticipation on what Wilder will do next. There are appealing options that fans want to see. At the top of the list is a unification showdown with Wladimir Klitschko (63-3, 53 KOs). Klitschko has been dominating the heavyweight landscape for over a decade now. Some fans are growing tired of prior to Klitschko's fights knowing that his opponents really have no chance of competing with him let alone beating him. Wilder physically matches up well with him. His performance against Stiverne proved that he can do much more than just knock opponents out and that he has a boxing dimension in his game as well.  Klitschko will be defending his WBO, IBO, IBF, and WBA Super World Heavyweight titles on April 25th unbeaten Bryant Jennigs. Should he be successful he likely would not return to the ring until late summer at the earliest. That might be longer than Wilder's team may want to wait with Wilder's last fight having been in January.
Option 2
Unbeaten Tyson Fury (24-0, 18KOs) would be a big showdown especially if the fight took place in the UK. The buildup for the fight would be huge. The two fighters have gone at it hard publicly recently on the social networks challenging each other. The pre-fight hype itself would be PPV worthy in the UK and would do good ratings on U.S. Television as well. Especially on NBC where Wilder Advisor Al Haymon has a current boxing series.  The 6ft7 Wilder vs. the 6ft9 Fury would rank up there in history as the two tallest fighters to fight for the Heavyweight championship of the world. The timeline would seem appropriate as well with Fury who easily knocked out outclassed but highly world ranked Christian Hammer this past February. For all the talk between the two at the end of the day they each have a promoter or an advisor in the case of Wilder who help guide their careers. It seems like for now that Fury's team who is the mandatory to Klitschko is more looking to take that fight. If he were to be convincingly beaten by Wilder that would all but end any immediate consideration for a fight with Klitschko.
Likely Option
Wilder stepped up in class majorly when he fought and defeated Stiverne. If his next fight is not a blockbuster fight but a voluntary defense against a known quantity then that seems fair enough. He earned that right. He still needs the activity and can still improve. This past weekend former two-time world title challenger Chris Arreola (36-4, 31KOs) got back in the win column by defeating novice boxer Curtis Harper. Arreola was expected to make easy work of Harper and it looked this way when he dropped him in round one. Harper had other plans and would not only get up from the knockdown but to stun Arreola various times throughout the bout. Arreola win on to win a hard earned decision but clearly doesn't appear to be  the promising contender that he once was thought to be. Even so he is represented by Haymon who has the same role as mentioned earlier with Wilder. It is an easy fight to make and would fit well into the Haymon's Premier Boxing series. It would be the third opportunity for Arreola at the world title and maybe his swan song if he loses. Arreola vs Wilder may not be what the fans will want to see after Arreola's performance this past Saturday but it's at least a fight where we know both guys will bring it for as long as it lasts. Even if it's not Arreola in the opposing corner someone similar in terms of notoriety seems likely for Wilder's first word title defense and not  Klitschko or Fury.
---