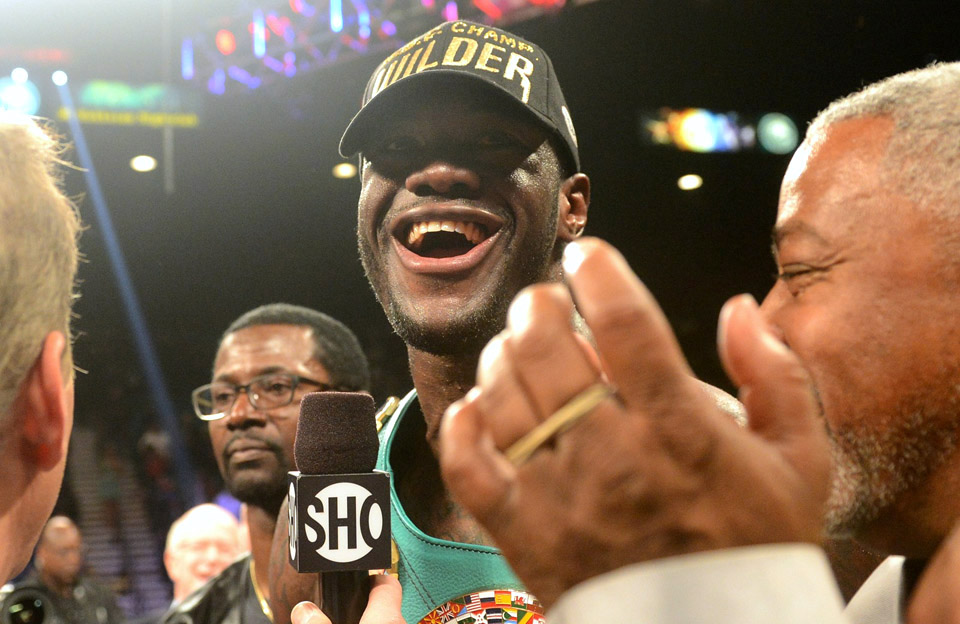 This Saturday night history was made when Tuscaloosa, Alabama's Deontay "Bronze Bomber" Wilder (33-0, 32KO) didn't knock out but clearly out-boxed defending WBC heavyweight champion Bermane "B. Ware" Stiverne (24-2-1, 21KO) to become the first American-born heavyweight to capture a slice of the heavyweight pie since 2006.  Along with that Wilder became the first undefeated American heavyweight champion since Riddick Bowe in 1992.  Quite an accomplishment for the 6"7' fighter who didn't take up boxing until his early twenties.
Wilder shut some mouths on Saturday night from the MGM Grand Arena in Las Vegas and live on Showtime as he not only proved that he was more than a one-trick pony but that he actually had a couple more dimensions to his game that many in the boxing world expected.  Wilder displayed extraordinary reflexes as he was able to get out of the way of quick and powerful hooks from either fist from Stiverne while countering well with his long-range punches.  Wilder was able to use his height to stay just out of range of the sporadic right hands from the five inch shorter Stiverne who by the end of the night was just another heavyweight champ who couldn't get out of his own way and defend his title.
After the fight the thirty-six year old had the odd excuse that he felt good before the fight but inside the ring he didn't feel one-hundred percent.  Many in the social network universe took that as just excuses but it was announced a day later that Stiverne was in the hospital for dehydration and was not released until Monday afternoon.  The fact that Stiverne is with Don King pretty much gives him a death sentence and we might not ever see him again in an important heavyweight fight.
As far as Wilder, the world is his oyster and claims he is ready to take over the division and all the spoils it comes with.  Wilder's contract with Golden Boy Promotions' ended with this fight and now is under the complete auspices of one Al Haymon.  With that said and with the newly announced NBC "Premier Boxing" series ready to get on the airwaves, we might see the charismatic Wilder on some Saturday afternoons like we used to watch the great "Iron" Mike Tyson on the Wide World of Sports a lifetime ago.
Wilder didn't escape the fight unscathed despite his face looking as clean as when he went into the ring wearing a gold mask. His injury was much more serious, at least for a boxer, when it was announced that the "Bronze Bomber" hurt his right hand around the fourth or fifth round. As soon has Wilder reached his home state of Alabama he was administered a series of x-rays which showed a fracture in his knuckle area of his ring finger.  Now it looks that he will not return until the summer. Will it be on Showtime? NBC?
Many think his next opponent will be Brit Tyson Fury but I doubt that Wilder, or Al Haymon, will ever agree for his newest champ to travel against the pond.
---