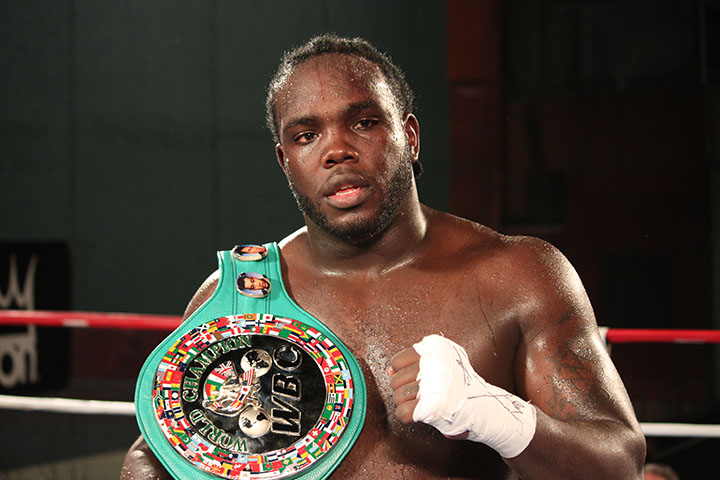 Legendary Don King has never been a man of few words.  Ever since starting his career as a promoter after some stints in prison back in the '60s, King made himself stand out not only with his unique hairdo back then but also for his gift of gab.  Now in his early eighties and with his once vast stable decimated, King still talks but not as much.  One thing that he is not talking much about is the latest news regarding the only champion he represents, WBC heavyweight champion Bermane Stiverne.  Stiverne has been ordered to make his first title defense against mandatory challenger Deontay Wilder but as far as when, well, that is not as clear.
The Haitian-born Stiverne, the first ever champion from that small Caribbean island, captured the title by stopping Mexican-American former title challenger Chris "Nightmare" Arreola in six rounds last May.  The bout was a rematch of their first fight a year prior in April of 2013 where after suffering a broken nose early in the fight; Arreola kept fighting only to be a victim of a unanimous decision.  A war was expected in the rematch but after suffering an early attack from Arreola, Stiverne easily dropped him twice to get the TKO win and his place in the record books.
The big payday here is a fight against Wladimir Klitschko.  Klitschko holds the IBA, WBA and WBO titles.  The only one missing is the WBC.  Stiverne and Arreola fought for the vacant WBC title, the one that other Klitschko, Vitali, left behind after deciding to join the political ranks of his native Ukraine.  As soon as Stiverne won the title, Klitschko made it known that he was interested in challenging for the only title he needs to make a full house.  Surprisingly, the WBC did the right thing and opted to mandate a fight against the #1 challenger Deontay Wilder.
Wilder is promoted by Golden Boy Promotions and handled by Al Haymon.  The WBC ordered that Golden Boy and King would have to reach an agreement before September 12th or a purse bid will be held.  When that date came, Golden Boy and King asked the WBC for an extension since they said they were still negotiating.  It was extended until October 1st.  Now that date as come and gone and still no purse bid since the promoters asked for yet another extension.
What is holding it up?
The promoters say that Showtime has shown some interest towards the fight but HBO has not.  Many insiders say their biggest fear from having the purse bid is one New York rapper by the name of Jay-Z and his company Roc Nation.  Just like they did with the potential Quillin-Korobov, the promoters are fearful Roc Nation will come and outbid both Golden Boy and King and take over the promotion. After the October 1st purse bid was postponed, Mauricio Sulaiman, president of the WBC, said there was no new date.  In the meantime, boxing fans are held hostage in hopes of finally seeing the first U.S.-born heavyweight champion in ages until Golden Boy, King and the WBC figure something what works best for them.
---