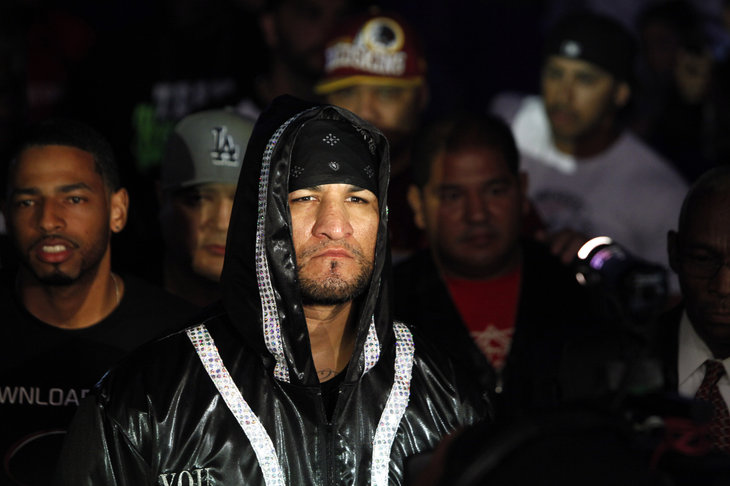 For nearly half a century Mexico has been a major force in professional boxing.  The first Mexican on record to become a world champion was Jose Perez Flores, better known as Battling Saw.  Born in Nuevo, Laredo, Mexico, he became the lightweight world champion by defeating Johnny Jadick in 1933.  As a rule, Mexican and Mexican-American fighters have focused on the smaller weight classes from strawweight to welterweight.  Julio Cesar Chavez Jr, born in Culiacan, and Oscar De La Hoya, born East L.A., are the two heaviest men with Mexican surnames that have captured titles, both at middleweight.
This Saturday night Cristobal Arreola has the opportunity to capture the most important title in boxing, the heavyweight title, when he rematches Bermane Stiverne live on a special edition of ESPN's "Friday Night Fights" from the Galen Center on the campus of USC in downtown Los Angeles. After controlling the two first rounds in their first fight in April of last year, Arreola was hit with a perfect right hand that shattered his nose.  From that point on Arreola was fighting on guts alone, as he put it, since he couldn't breathe and every punch landed by the Haitian Bermane caused excruciating pain on Arreola.
It us an understatement to say that if Arreola were to win the title it open up his future like an oyster with a big, fat, round pearl inside.  It is no secret that the Mexican audience has become an important one in recent years with every promoter looking for the next Julio Cesar Chavez Sr. or Oscar De La Hoya.  The type of fighter, whether he speaks English or not, can capture the imagination of Mexicans on both sides of the border and practically print money.  Mexico and their fans have become such an integral part of the sport that the pound for pound king himself, Floyd Mayweather Jr, has relegated to only fight in May and September, two dates traditionally reserved for Mexican fighters.
Stiverne and Arreola have the opportunity for the title after champion Vitali Klitschko left the title vacant to fight a much more important battle in the political arena of his native Ukraine.  The fact that if Arreola where to win the title without beating the linear champion is of no concern to Mexican fight fans since for the first time in history one fourth of the heavyweight title will be around the waist of a man that looks just like them.
Much has been said by the media and Arreola's camp that the key for Arreola's success in this fight is how in shape he comes in on Saturday night.  Arreola in the past has struggled with his discipline leading him to not to train as diligently as he should and in turn end up inside the ring at a much higher ideal weight.  For the second training camp in a row, Arreola has traveled outside his native Riverside, CA, and set up camp elsewhere.  Today at the official weight in for the fight, Arreola came in within his target weight range at 239 pounds while Stiverne tipped the scale half a pound heavier.
There is no love lost between these two who have been throwing verbal jabs through the media in the days leading to their face-off.  Yesterday during the final presser things got heated with both using rated R language to describe what is going to happen inside the ring.
Even if Arreola doesn't win, history will still be made since Stiverne will be the first Haitian to capture the heavyweight title but for some reason I don't think it will be as important.
---