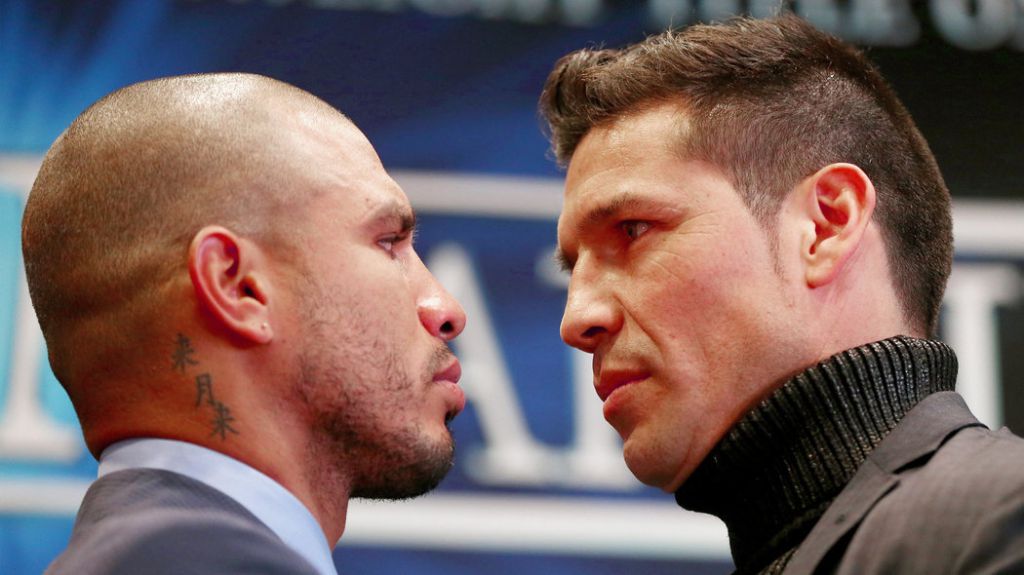 This weekend, no matter who wins, will be special.  On one hand we have the stoic Miguel Cotto, the next in line of legendary Puerto Rican fighters looking to accomplish something neither Wilfredo Gomez, Tito Trinidad nor Hector Camacho ever did.  Cotto is looking to capture a fourth title in as many divisions when he challenges WBC middleweight champion Sergio "Maravilla" Martinez at the Madison Square Garden in New York City.  The night will mark the sixth time in his career that Cotto has performed in New York City in the month of June and around the city's Puerto Rican parade.
On the other hand we have the forty-year-old Martinez, a fighter who didn't lace up a pair of gloves until his late teens but with his exceptional athletic ability was able to overcome his lack of experience to still get to the plateau of the sport by capturing titles at super welterweight and middleweight.  Not in the ring since April of last year, Martinez suffered a knee and shoulder injury with a come from behind win over Brit Martin Murray in front of over forty-thousand strong in his rainy welcome-back home fight.
Saturday night is the first time that Cotto fights above the limit of super welterweight and at the weight only went over a pound tipping the scale at 155 pounds.  Much has been said of all the concessions the champion Martinez had to agree to make the fight.  From Cotto, the challenger, named first in all the media and the Puerto Rican coming in second into the ring, another point was the weight with a catch weight agreed of 159 pounds.  Martinez came in a bit less at 158.8.
This is definitely a cross roads fight.  With all his ailments and now in his fourth decade of life, it would be hard to believe that Martinez would have more in the tank after coming such a long lay-off and losing his title belt.  A loss for Cotto would prove once again that he is just not able to pull it off when it comes to fighting elite world-class fighters.  Three of Cotto's four losses, Margarito, Pacquiao and Mayweather Jr, have come to fighters who are all-around a slightly higher level than his.  His lost loss to Austin Trout is his only to perhaps a fighter not at his level but had the advantages of size and youth as well as a southpaw stance that Cotto has proven to have trouble with.
The loser is expected to retire.
Martinez possesses two out of the three same advantages Trout enjoyed over the 5'7" Cotto.  Martinez is bigger and a southpaw.  Martinez is older but has not been fighting for as long as Cotto so it can be believed that he has a lot less miles on the odometer.   It seems as if Cotto and Freddie Roach, his  trainer for the second fight of his career, are banking on the fact that Martinez is not one-hundred percent. Martinez during two episodes of HBO's "24/7" has alluded to the fact that he has been fatigued as well as wearing knee braces which at first were not going to be allowed in the fight by the New York State Athletic Commission but since have rescinded on the ban.  What happens if he is? Then Cotto should expect a mobile, quick-fisted and hard hitting southpaw in front of him.
Last time he faced one of those, he was stopped before the last bell.
---