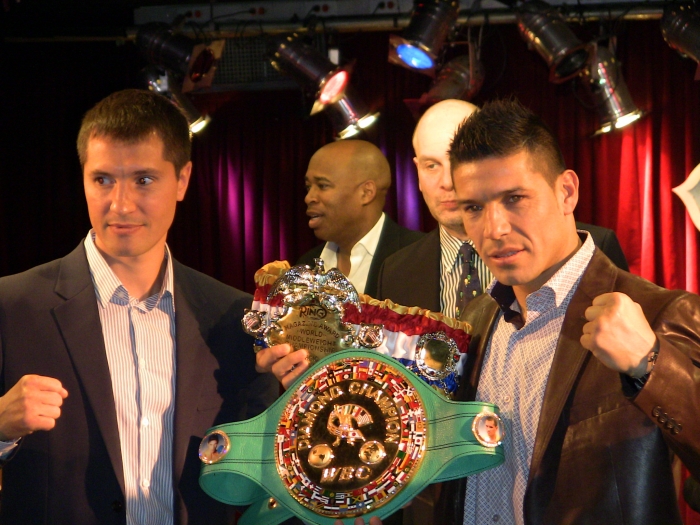 In a perfect world we'd be seeing Miguel Cotto and Sergio Martinez squaring off this weekend for the middleweight title of the world. But this is boxing and it's far from perfect. Bob Arum would much rather take his toy Cotto, run to Vegas and thrown him in with celebrity punching bag Ricardo Mayorga whose claims to fame are beating Vernon Forrest a million years ago and giving Shane Mosley trouble before getting knocked out in the last seconds of the twelfth round (with the help of some of the worst knockdown management ever by a ref).
http://www.youtube.com/watch?v=J2oTL5tfckQ
Now his trash talking old bones are being rolled out for shopworn Miguel Cotto who is coming off an injury and a long layoff. But hey, people know about it, it's been promoted well, and this weekend will feature probably more sold out tickets and PPV sales than the other fight happening on the east coast.
Serhiy Dzindiruk might as well be Andre Berto. He got a title shot on HBO for nearly a million bucks and he hasn't done anything to get the shot except be promoted by the guy who has a piece of Tim Bradley. How ugly is that?
Sergio Martinez is probably too nice of a guy to rue the day he signed with Lou "hey, HBO made me do it" DiBella. Sure, he got him to the title. Along with that, Lou has gotten him tough fight after tough fight and short money en route to being the man at 160 even though he has no belt.
But when you look at the fight, Martinez-Dzindiruk and you compare it to Cotto-Mayorga, what do you see? A competitive fight that may not be the most exciting vs. a semi-competitive fight that has no meaning to anyone but Bob Arum and Cotto fans.
Sure, one could be good if Cotto is rustier and more shopworn than we think and Mayorga switched to light beer and cigarettes for camp.
And the other might be exciting if Martinez can get to Dzindiruk and make him fight.
The chances of either or both happening are about as good as Manny Pacquiao saying he is on steroids and Floyd Mayweather "It's ok, homie. Let's fight anyways. And go ahead, take 60-40. I got stacks aplenty."
In the end we will get two fights to talk about that should have been one we really cared about.
Boxing. It's the greatest and most frustrating sport there is.
---