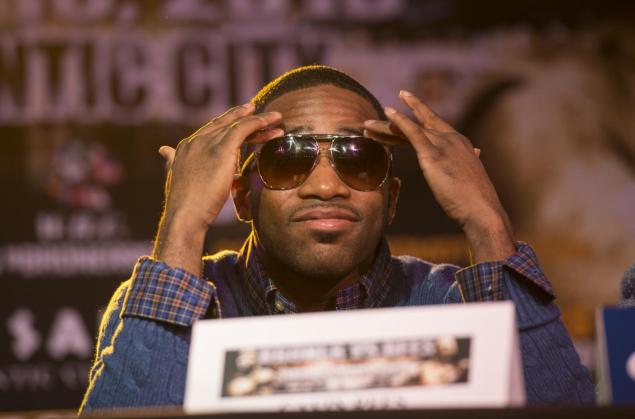 "The Problem"."About Billions"."Lil' Bro".  Adrien Broner.  It doesn't matter which moniker he is going by or you call him, the current WBA welterweight is undeniably a major force in the boing business.  He first burst in the scene with a close and disputed unanimous decision over hard hitting Daniel Ponce De Leon back in 2011.  Set on the under card of a "Canelo" Alvarez event in Los Angeles, Broner failed to impress in that super featherweight fight but did in his next fight when he knock out B level fighter Jason Litzau in the first three months later.
He really began to turn heads with his destruction of Eloy Perez with a fourth round TKO in early '12.  In his next fight, Broner failed to make weight for his WBO junior lightweight title defense against Vicente Escobedo.  Since then, Broner has captured the WBC lightweight title by defeating Antonio DeMarco then defended it once against Gavin Rees.  Earlier this year Broner went up to weight divisions to challenge and defeat with a close split decision over Paulie Malignaggi and capture the WBA 147 lbs. title.
Along with his success inside the ring, Broner is following the blueprint for super stardom drawn up by his "big bro'" Floyd Mayweather Jr using crazy antics outside the ring to bring attention to himself and with that, fans that love him as well as fight fans that don't but it seems that Broner is a firm believer that any publicity is good publicity.
You do have to give it to Broner as he understands that at times wearing the black hat brings him greenbacks to his wallet.  One way that "The Problem" has reached an audience at his terms is with his YouTube web-series "About Billions".  Taking it a step beyond anything that Mayweather Jr did at the same in his career, Broner produces his own "24/7" type 15-minute reality series which displays his take of his surroundings, his friends "Band Camp", his boxing career, his rap career and everything else Broner.
Ever since somebody put a microphone in front of him, Broner has told that person or anybody else that would listen that he is the heir apparent to the current pound for pound champ and driving force of the sport, Floyd Mayweather Jr.  Broner goes as far as saying that Mayweather Jr is his "big bro'" and he is the "lil' bro" associating himself with "Money" in a non-threatening way towards the champ.
This Saturday night, Broner will take the next step towards making his dream come true.  Broner will be facing the tough Marcos "Chino" Maidana.  In Mayweatheresque fashion, Broner down talks Maidana's ability in one breath and praises him in the next but one thing that doesn't change is the fact that he predicts that he will come out on top in the main event from San Antonio, Texas' Alamodome.
With a convincing and impressive win, there will be no doubt that Broner perhaps has what it takes to take the torch from the thirty-six year old Floyd Mayweather Jr but if "The Problem" succumbs to the hard pressing come forward style of the strong south American, where will we look for the next superstar?
---