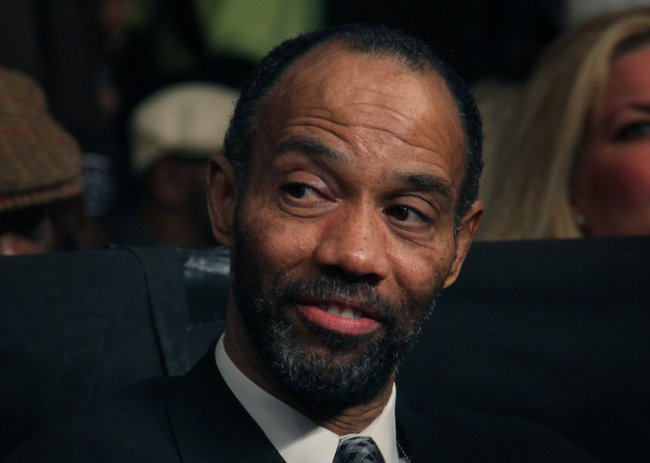 All is set for what looks quite possibly the biggest fight card of the year.  Billed as "The Moment", the event brought to the boxing world by Mayweather Promotions in association with Golden Boy Promotions features the biggest name in boxing, Floyd Mayweather Jr (45-0, 26KOs), as he takes on hard hitting brawler Marcos Maidana (35-3, 31KOs) in a twelve round fight for the WBA and WBC welterweight titles.  The main event was officially announced only earlier this week on the morning of March 8th but Mayweather Jr., as he tends to do, had released the info some weeks before on his social media accounts.
The news here is that this week the rest of the fight card to be broadcast live on Showtime PPV was announced.  Richard Schaefer, still the CEO of Golden Boy Promotions, as of this writing states publicly that it is the most expensive fight card to date ever broadcast on PPV.
In the semi-main event, former champs Amir Khan (28-3, 19KOs) and Luis Collazo (35-5, 18KOs) will face off in a special attraction twelve rounder, Adrien Broner (27-1, 22KOs), coming off his first loss, will go after Carlos Molina (17-1-1, 7KOs) in his first fight back in the light welterweight division and super middleweights J'Leon Love (17-0, 10KOs) and Marco Antonio Periban (20-1-1, 13KOs) for ten rounds.
It is a given why J'Leon Love, who is coming off a TKO last February against Vladine Biosse, is on the card since he is card carrying member of The Money Team.  No secret that Mayweather was promised at least one slot on the televised portion of the card and what could only be imagined a few more on the rest of the card.
Khan, who was the first runner up to face Mayweather Jr but lost out to "Chino" from Argentina, has been promised a future fight against "Money" as long as he beats Collazo on May 3rd.  Collazo is also being tabbed as a future opponent, much so by his own self stating that he would love to face Floyd at the Barclays Center in his hometown of Brooklyn, but obviously would have to beat Khan.
Some say that the winner of that fight will have to face Adrien Broner, the last piece of the card, to get their chance at the "golden ticket" against Floyd.  It is only imaginable that Carlos Molina is simply cannon fodder for Broner who is coming off his first pro loss to Marcos Maidana.  Khan defeated Molina, a natural lightweight, in ten round back in 2012 and it is expected that if Broner is able to finish him off in a faster fashion, it will only make a possible future face-off between Khan and Broner all that more enticing.
The real winner here is none other than influential Al Haymon with the majority of the fighters on the PPV portion of the card signed to him.  Mayweather, Maidana, Love, Broner and Collazo all work the reclusive advisor with Khan rumored to be speaking to him about a possible collaboration.  His financial stake on that night should be a healthy slice which can only help for any future plans he might have this year.
---