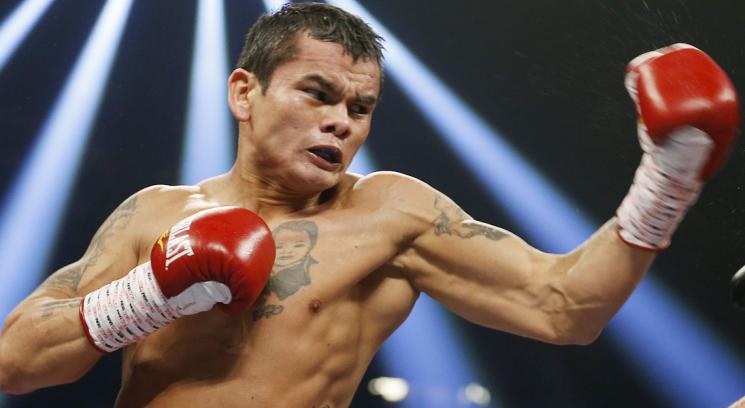 And just like that quite possibly the biggest fight of the year is set for Saturday, May 3rd, on Showtime PPV.  With a quick post on his social media accounts, the pound for pound best fighter in the world and PPV sales Floyd "Money" Mayweather Jr announced that he will be facing Argentinean tough man Marcos "Chino" Maidana in a welterweight match up.  According to some reports, the bout will be for both the WBC welterweight 147 pound title Mayweather captured against Robert Guerrero last year and Maidana's WBA title he beat Adrien Broner last December in a major upset.  Another rumor running rampart through the internet is that the fight might take place in Brooklyn, New York's Barclays Center although that might be far from the case since it is known that Mayweather possibly has an agreement with the MGM to stage a number of fights in their building.
After taking a lopsided unanimous decision over the aforementioned Guerrero last May, Mayweather participated in quite possibly the biggest event in recent times with "The One", his twelve round super welterweight title fight against previously unbeaten Saul "Canelo" Alvarez.  As expected, Mayweather controlled all of the action against the overmatched twenty-three year old.  Inexplicably, one judge, CJ Ross, saw it an even 114-114 while the other two turned in nearly as controversial scorecards of 117-111 and 1116-112 but in favor for Mayweather.  Besides his virtuoso performance, the event broke all kind of records, from attendance to merchandise.  More importantly PPV sales reached 2.2 million just shy of the biggest PPV seller of all time, Mayweather vs De La Hoya back in 2007.
With four more fights needed to complete his multi-million contract with Showtime, the scramble was on September 15th, 2013, the day after his win against Alvarez to find a suitable opponent that will capture not only the hardcore boxing fan but also the casual who might only purchase one or two PPV shows a year.
Enter Marcos Maidana.
Maidana began his 2013 in typical "Chino" fashion with a come from behind win over the "Riverside Rocky" Josesito Lopez in Los Angeles back in June.  After going down in the fourth which referee Lou Moret ruled a slip, Maidana stream rolled over the over powered Lopez and sent him to the canvas in the sixth.  Lopez beat the count but only to be met with a flurry of Maidana punches and forcing the referee to stop the fight.
If that wasn't enough, Maidana pulled the biggest upset of the year in December when he sent previously undefeated Adrien "The Problem" Broner twice to the canvas en route to a unanimous decision in San Antonio.  With the win Maidana won the golden ticket and secured himself the biggest payday and fight of his career so far.
The odds opened a whopping 20-to-1 in Mayweather's favor which honestly is no surprise.  Maidana is considered a slow, plodding but super strong brawler whose only chance of beating the best fighter of the world is quite possibly the luckiest shot of all time.  Will Mayweather completely shut down Maidana like he did with his last two opponents? Or will Maidana put up a fight and shock not only Mayweather but the rest of the boxing world with not necessarily a win but a better than expected performance?
We will see in sixty day's time.
---