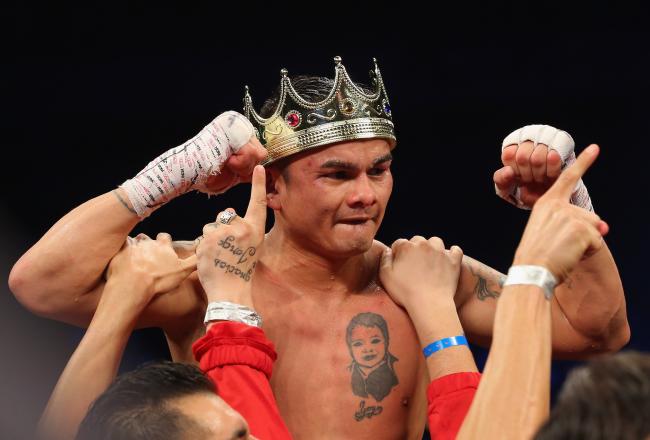 Newly crowned WBA welterweight champion Marcos "Chino" Maidana received a hero's welcome as soon as he stepped on Argentinean soil earlier this week after defeating the previously undefeated Adrien Broner in an exciting fight of the year candidate last Saturday night in San Antonio, Texas.  As soon as somebody provided him with a microphone, the quiet and soft-spoken Maidana used it to announce to the boxing world that he wants Floyd Mayweather Jr next.  Despite the majority of boxing fans second that motion, all things point that the South American is going to have to wait.
Let's get real.
Nearly every guy that wins a fight on either HBO or Showtime and get  their couple minutes with either Max Kellerman or Jim Grey in their post-fight interview, they use some of the time to call out Floyd Mayweather Jr.  it is no secret that a fight against "Money" gets you just that, money and lots of it.  For many if not all his most recent opponents, the paycheck they receive after their Mayweather Jr drubbing is the biggest of their career, before or since.
You can't blame Maidana for trying.
The bad news for "Chino" is that it seems that the machine that is needed to promote the next fight of the current king of boxing has already started chugging along and the VIP passenger on it is one Amir "King" Khan who for all intents and purposes points to be the next Mayweather Jr "victim".
Mayweather Jr is slated to lace up the gloves once again on May 3rd and Khan for his part has made it no secret that he expects he will be the man in the opposite corner that night.  Many if not all boxing fans would rather see the much more aggressive, tougher and quite frankly better chinned Maidana instead.
Boxing insiders and fans expect that Khan is a walk in the park for Mayweather Jr.  Khan is coming off a close unanimous decision over former lightweight champion Julio Diaz back in April.  Before his easy win over the much smaller Carlos Molina, Khan met the canvas twice against Danny Garcia and that is what is expected against Mayweather Jr, for Khan to be an easy knock out for the pound for pound king who has not scored a win inside the limit since Victor Ortiz back in September of 2011.
It looks like we must wait until September of next year to possibly see Maidana go after Mayweather Jr but that makes it a risky proposition.  Maidana obviously has to face somebody in the next ten months until the fall but whom? It must be somebody dangerous enough that with the win, Maidana holds his place in the fan's eyes of a viable Mayweather Jr opponent but easy enough to not beat him.
Malignaggi?  Sounds reasonable since Malignaggi at least has a boxing style that although not exactly like Floyd's, at least it lives on the same street.
Keith Thurman, the interim WBA champ? NO!
Rematch with Ortiz? Maybe since the first fight was such a barn burner and more than likely Maidana beats him again, something everybody would love to see.
---