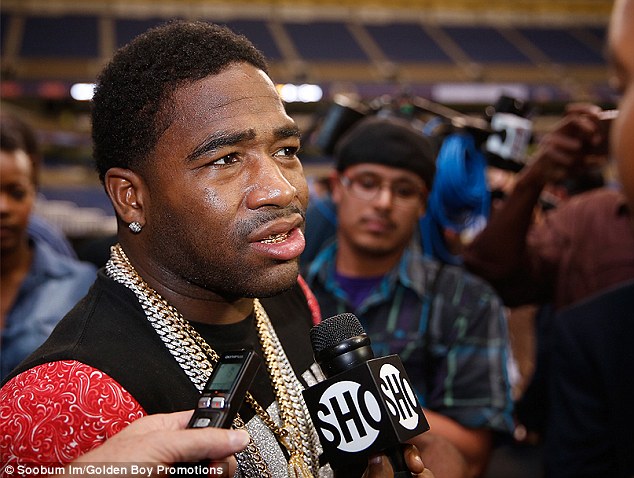 Despite all his shenanigans, polarizing ex-world champion Adrien Broner is one of the most popular fighters in the sport of boxing right now.  Whether you love him or hate him, many boxing fans can't help themselves to tune in.  From his eccentric choice of clothes, to his questionable YouTube videos and the outrageous proclamations he makes, Broner has turned himself into what many other fighters miss in the equation, an entertainer.
It is no secret or surprise that Broner has modeled his on and off the ring persona on none other than Floyd Mayweather Jr.  So much so that Broner has seemingly baptized himself as Mayweather Jr's "lil' bro".  It is a smart move since who better to follow the footsteps of than the fighter who has topped the Forbes best paid athlete list in recent years?  The catch though is that Broner is just not that good as the current pound for pound king in the sport.  Whereas Mayweather Jr has dominated his chosen divisions for close to twenty years, the sport of boxing for at least five and is undefeated in close to fifty professional fights, Broner already has suffered an embarrassing loss to Marcos Maidana near the end of last year.
After capturing titles in the super featherweight, lightweight and welterweight division, all before the age of twenty-four, Broner might have tried his luck one too many times last December when he faced the plodding but hard-hitting "Chino" of Argentina.  In a fight that Maidana completely mauled over Broner, Marcos not only proved that Broner did not truly belong in the 147lb division but maybe also exposed "The Problem".
With quick hands, strong upper body but not much footwork, Broner tried to rely on his reflexes to beat Maidana but the Argentinean proved that with a solid right hand and some pressure, Broner could be defeated and even sent to the canvas.  Even though Broner has defeated men who have been campaigning in the weight division they were disputing the title of, it has always been public knowledge that Broner has always had some advantage in size.  From Eloy Perez, who he defended the WBO 130lb title against, to Gavin Rees at 135 lbs to even Paulie Malignaggi at welterweight.  Even though Broner and his team including advisor Al Haymon knew that Paulie didn't have the power to hurt Broner, it wasn't a walk through the park for Adrien against the part-time fighter/broadcaster in Malignaggi.
It all came to head against Maidana.
Maidana, who now challenges "big bro" Floyd for the second time this year on September 13th, had the strength, power and non-respect for Broner to make it mean something and he proved it in one of the biggest upsets of last year.  Since that loss, Broner faced the much smaller Carlos Molina at 140lbs, going down to a much more logical weight class and now will face Emmanuel Taylor live on Showtime this Saturday night in his hometown of Cincinnati.
He says he wants a rematch against Maidana or perhaps a fight against another Argentinean, Lucas Matthysse, or in a distant future, maybe Danny Garcia. Whomever he fights, we are sure to be entertained.
---