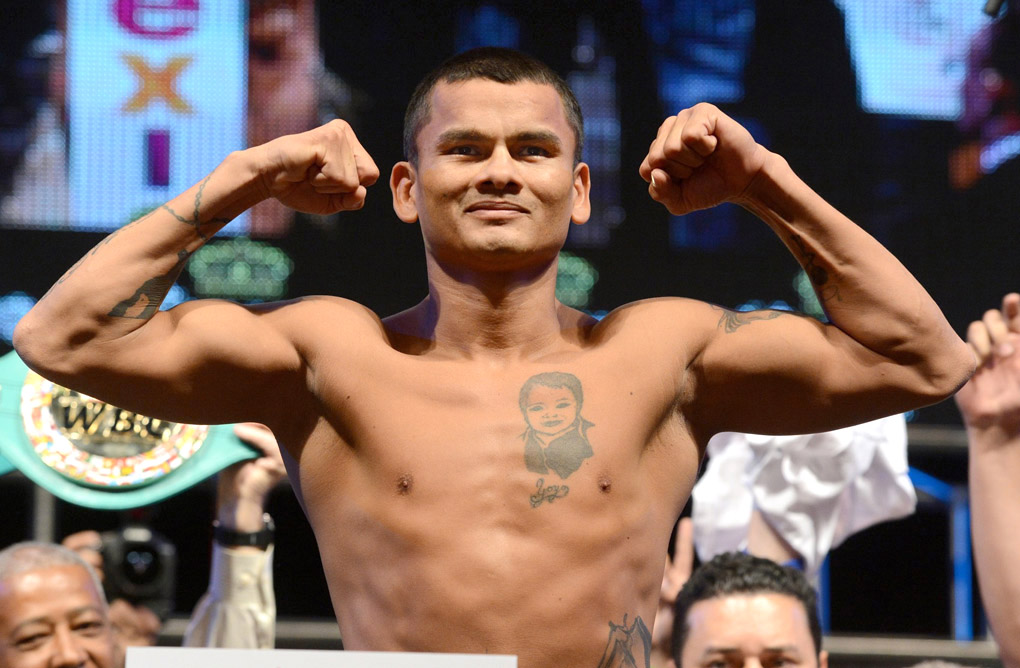 Former world champion Marcos "El Chino" Madaina champion (35-5, 31KOs) had quite the year in 2014. He got two cracks at boxing's pound for pound unbeaten King and two-division world champion Floyd Mayweather Jr.  Though he came up short twice his stock went up in a big way with his effort in both fights. In fact he was able to do something very few have been able to do in recent years and that was win rounds against Mayweather Jr. In fact in their first fight one judge actually had the fight even. Not only did he enhance his public profile but no doubt his economic status as well. Well deserved for Madaina who earned his chance at Mayweather Jr. by decisively defeating unbeaten Adrien Broner in December 2013. Maidana entered the Broner fight as a huge underdog. In fact many had written Madaina off after his one sided decision loss to Devon Alexander the year before. Alexander actually beat Madaina at his own game outslugging him. To his credit Madaina gathered himself after some time off and teamed up with current trainer Robert Garcia. After a few fights of working together their chemistry came together in the Broner fight.
After some well deserved time off the attention now turns to what will be next for Madaina in 2015. The options seem endless for the hard punching Madaina. Especially since the biggest names between 140 and 147 are with Advisor Al Haymon as is Madaina. Coming off of two consecutive losses the question now becomes is it necessary to put him in a fight as the A side fighter against an opponent he will likely beat. Considering his two back to back losses were to the best fighter on the planet this does not seem necessary. One fight that immediately comes to mind is a Madaina-Keith Thurman explosive showdown.  The Unbeaten WBA Welterweight Thurman seems on a mission to land a fight with Mayweather Jr. Until that time comes he seems to be seeking out former Mayweather Jr. opponents to show he deserves the fight. Overall his recent win over former world champion Roberto Guerrero was a very good performance by Thurman. He did drop the iron chinned Guerrero but aside from that Mayweather Jr.'s win over Guerrero was just as dominant. Madaina would pose a serious threat to Thurman as he is a much bigger puncher than Guerrero. Thurman has and in ace in the hole as he is an extremely effective boxer if he needs to be. These scenarios make the fight that much more intriguing. The fight would seem to getting paid really well thus far since it started a few weeks ago. Which is good. One would think coming off of two Mayweather fights the purse demand by Madaina's side to take such a risky fight with Thurman would be a decent sum of money.
Maidana has mentioned that he would like a fight with unified 140 pound world champion Danny Garcia. Garcia is currently set to fight world champion Lamont Peterson in a non title catchweight fight. The problem is that Garcia does not fight until April. Assuming he comes out of the fight with a victory and injury free a possible fight between the two wouldn't take place until at the earliest early in the fall. Maidana would have been out of the ring for a whole year by then. Can't imagine his team would want him entering such a big fight coming in off of such a long layoff. Two more realistic options would be fellow Haymon stablemates and former world champions Andre Berto and Shawn Porter. Both are coming in off of knockout wins this past weekend so turn around time for their next fights seem right on course of when Maidana would be ready to return.  These are just a few of the exciting fan friendly options that are out there for Madaina. It seems that no matter which option he chooses it's going to be a win for the fans.
---