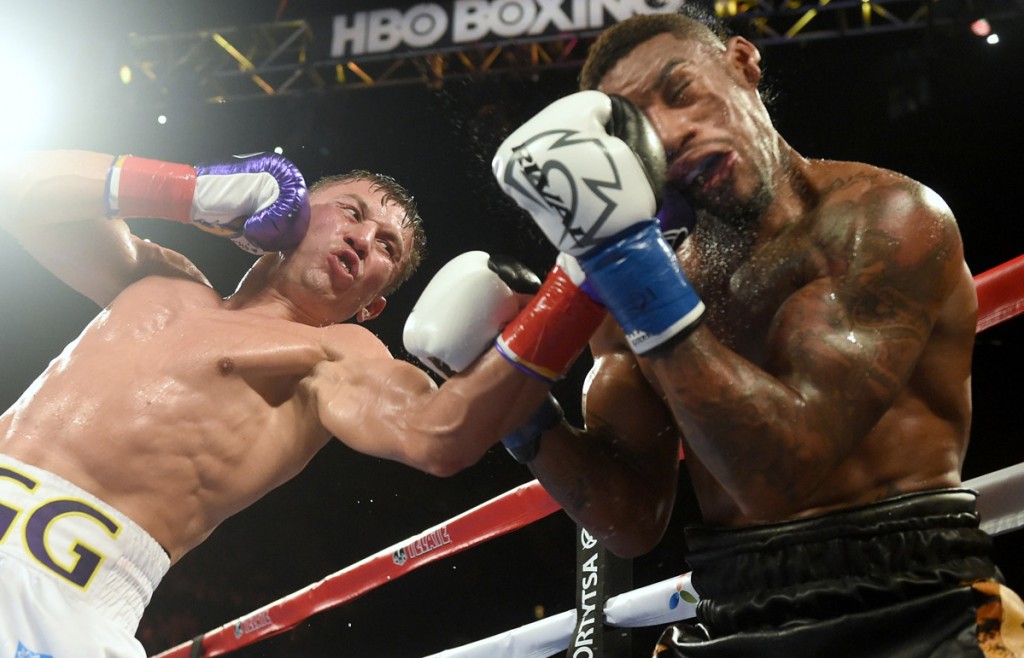 Fight by fight and punch by punch undefeated Gennady "GGG" Golovkin (33-0, 30KO) keeps cementing himself as the best middleweight in the world.  The thirty-three year old made fairly quick work this past Saturday night at the Forum in Los Angeles, CA, of "B" level fighter Willie Monroe Jr (19-2, 6KO) dropping him three times inside of six rounds to defends his interim WBC and WBA titles.   The fight was broadcast live on HBO and fought before a near sellout crowd of a little over twelve thousand fans.  It was the second fight card at the famed venue since its renovation last year.  The first was Juan Manuel Marquez's win over Mike Alvarado nearly a year ago.
There is a man that takes umbrage at the fact that nearly the entire boxing world calls Golovkin the best of his division.  That man is none other than Saul "Canelo" Alvarez.  In the post-fight presser with HBO's Max Kellerman Golovkin stated in no uncertain terms that he was ready for Alvarez or Miguel Cotto next and would rather wait than to move up to super middleweight and face Andre Ward.  Minutes later, Alvarez answered the challenge on his official twitter account with the following message: "When the day comes for me to move to 160 I will face the best in the division.  Sincerely and with humility I don't see any real competition for me.  Greetings to everyone!"
Strong words from the twenty-four year old.
There are some inconsistencies with his statement.  Technically Alvarez is already a player at middleweight since his last three fights have been contested at a catch weight of 155 lbs.  He mentions that once he goes up to middleweight, not giving a timetable, he will face the best in the division.  According to BoxRec.com and their computerized rankings, the best in the division are Golovkin, Cotto, Quillin, Lee and get this, Jermain Taylor.  The best bet for Alvarez in the division is Lee.  Lee kept his title despite going life and death with Quillin and earning a draw last month.  Lee would be the easiest road to a quick title for Alvarez in the division but that might not be the case since it looks like a fight against Cotto is almost done for the fall of this year if the rumors are to be believed.
Quillin is not a good look for Alvarez since it has been proven that the Mexican super star does not do well with movers like Mayweather Jr and Erislandy Lara.  Alvarez got the win over the Cuban boxer but many believe it was a draw at best.
Where does that leave Golovkin?
According to his handlers, he will be back in the ring in September as he tends to stay pretty busy.  It won't be against Alvarez or Cotto but according to Mauricio Sulaiman, the head honcho of the World Boxing Council, if Alvarez and Cotto are to meet in the near future, it would have to be with the understanding that the winner must face Golovkin.
At least if they want to keep the coveted green and gold belt.
---