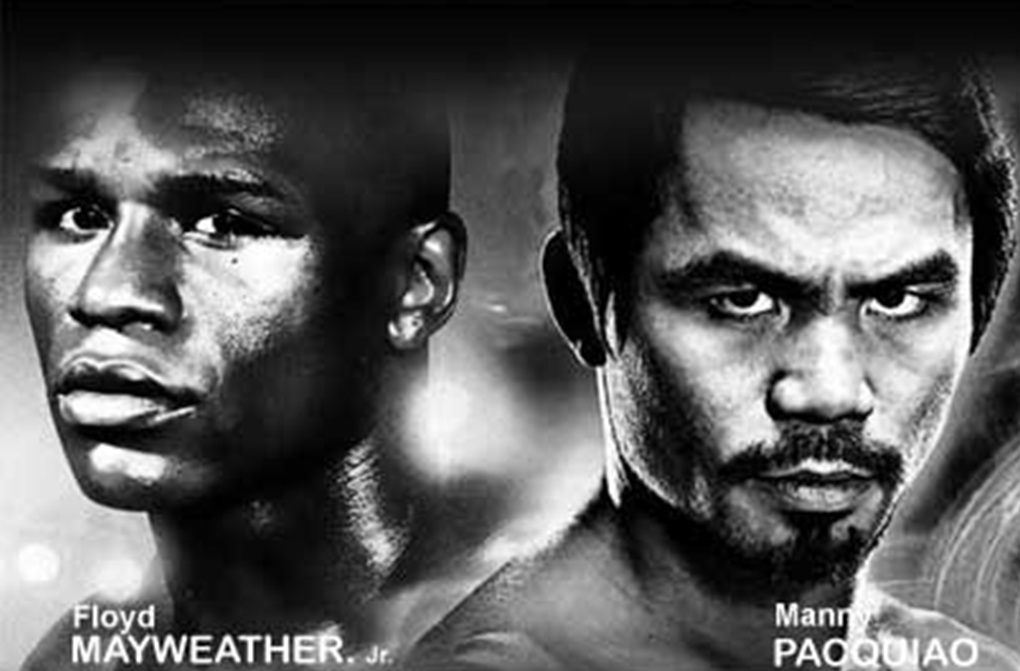 The subject has been beaten more to death than a horse ready for the glue factory.  With his impressive win over the considered number three pound for pound fighter Timothy Bradley a couple of Saturdays ago, Manny Pacquiao's name is once again mentioned in the same breath as Floyd Mayweather Jr's in regard to a possible super fight between the two.  It was first mentioned back in late 2009 after Pacquiao easily defeated Miguel Cotto via a 12th round TKO.  It was rumored that Pacquiao accepted the fight for March 13th, 2010, for an upfront split of $50 million.  A disagreement heard around the boxing world ensued regarding Olympic-style blood testing.  The fact that Mayweather wanted it and Pacquiao didn't.  After various talks, meeting and even a mutual agreed mediation where the testing was discussed, it was announced early in 2010 that the fight was definitely off.
After that the Filipino superstar has experienced a turbulent career with wins over Joshua Clottey, Antonio Margarito, Juan Manuel Marquez, Brandon Rios and the aforementioned Bradley and losses against Marquez and Bradley while Mayweather Jr has gone to become the biggest draw in boxing with wins over Shane Mosley, Victor Ortiz, Miguel Cotto, Robert Guerrero and Saul "Canelo" Alvarez.  Mayweather Jr is scheduled to face Marcos Maidana of Argentina on Saturday, May 3rd, in his latest PPV.
With every win from Pacquiao where he looks explosive and unstoppable such as against Antonio Margarito, Brandon Rios and Timothy Bradley, hardcore and casual fans alike call for the Mayweather Jr fight with the same fervor s when Mayweather Jr dominates yet another over match, plodding opponent.
The time for the fight could not be any more perfect than now.
With his win most recent win over Bradley, Pacquiao avenged a controversial loss from back in 2012 and pretty much has run the gamut of any viable opponent in the Top Rank stable.  Although many believe that a fifth fight between Pacquiao and Juan Manuel Marquez should be an entertaining and competitive as the previous forty-two rounds between the two warriors, a large contingent of boxing fans truly do not want to see that match up again.  Another important piece of the puzzle, Juan Manuel Marquez himself, has said time and time again since his brutal knock out of Pacquiao in December of 2012 that he is not interested in a fifth fight, even so disinterested that he declined a career high-payday for yet another rematch.
Early last year Mayweather Jr made major news by crossing the street to Showtime from HBO and signing a mega-million six fight deal.  In it, Mayweather Jr. is guaranteed a little over $41 million per fight.  After a lackadaisical response to his first fight under the agreement against virtual unknown Robert Guerrero, Mayweather Jr faced Mexican star "Canelo" Alvarez in the most lucrative fight in history.  It is said that his fight vs Guerrero sold either right under or just above one million PPVs while against Alvarez, over two million.  Mayweather Jr needs to sell well above one million for his guaranteed purse to make sense to the Showtime big wigs.
His next fight against Maidana is more Guerrero than Alvarez in public anticipation and competitiveness.
With both fighters exhausting any possible opponents within their respective alliances, the fight now really has legs.  Pacquiao's contract with Top Rank ends late this year and it is said that he reached out to Mayweather, even more so since he has tax problems at home and in the United States.
As for Mayweather Jr, despite never being all that interested in the fight in the press, his opinion might change after May 3rd if his bout against Maidana doesn't sell what is expected and like he loves to say, "if it makes dollars, it makes sense."
Coming in from left field is Oscar De La Hoya who made news this week by going public with his desire to make a fight between Pacquiao and "Canelo" Alvarez.  Many moving parts to the situation but at the end, us fans just want to see a good fight.
---