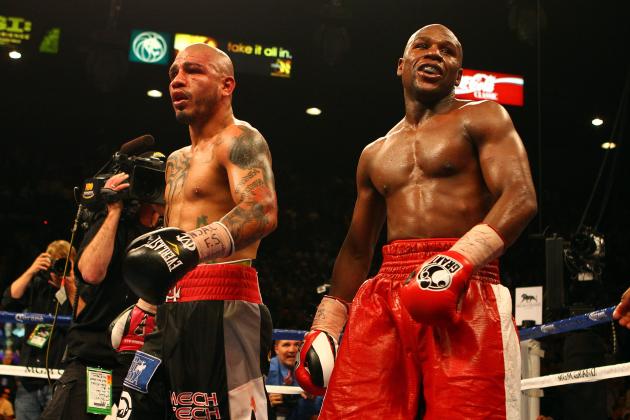 Christmas has come and gone and the New Year has begun. Good thing the boxing gods hear our prayers all year long or at least we want to believe that. With that said, this week we will go over the five fights we definitely want to see in the next twelve calendar months. In no particular order:
 1. Floyd Mayweather Jr (47-0, 26KO) vs Manny Pacquiao (57-5-2, 38KO) No list worth the virtual paper that is written on can be posted without this fight being somewhere on there. Yes, we have heard all the excuses from both camps and up to this point they are still playing the blame game. On paper it might not be the best fight out there and in all likelihood it should have happened five years ago but still, after all that, this is the fight that everybody wants to see. The casual and hardcore fans plus the media. Mayweather Jr is the favorite but he hasn't faced a quick southpaw since Zab Judah who for at least the first third of the fight gave "Money" a run for his money. Will it happen? As of closing today Team Pacquiao told a prominent Manila newspaper that they will make an announcement by the end of the month.
 2. Miguel Cotto (39-4, 32KO) vs Saul Alvarez (44-1-1, 31KO) Another one that is supposedly in the works but the unfortunate part is that they gunning for the same date, May 2nd. Alvarez wants the date for his Mexican brethren while Mayweather Jr wants it to flex his "Money" muscles. Cotto is stuck in the middle. The fight on paper promises much more fireworks than Mayweather-Pacquiao and with the ever-growing Mexico-Puerto Rico rivalry, you can expect the emotions to be sky high outside the ring. A classic young lion in Alvarez facing the old experienced guard of Cotto. Five years ago Alvarez wouldn't be able to carry Cotto's jock strap but the Boricua might be a little long in the tooth to take the Alvarez power. As of now Cotto is holding off in signing the deal with Alvarez going as far as calling out the Puerto Rican in an open letter to the press. It is reported the ever stoic Cotto didn't even bat an eye lash.
 3. Floyd Mayweather Jr (47-0, 26KO) vs Miguel Cotto (44-1-1, 31KO) Yes, we have seen this one before but since May of 2012 things have gotten a bit more interesting. It is said that Cotto has given one of the best performances against Mayweather Jr in recent years and even went as far as bloodying the undefeated fighter's nose. Cotto has gotten older but so has Mayweather Jr. What does Cotto have to offer? A middleweight belt that he captured last year and is something that Mayweather Jr does not have plus enough clout to take away the May date from "Canelo" Alvarez without Mayweather Jr having to face Pacquiao to do it. Cotto might have enough power above junior middleweight, where the fight must take place at, even if at a catch weight which is expected to really make the fight interesting.
---