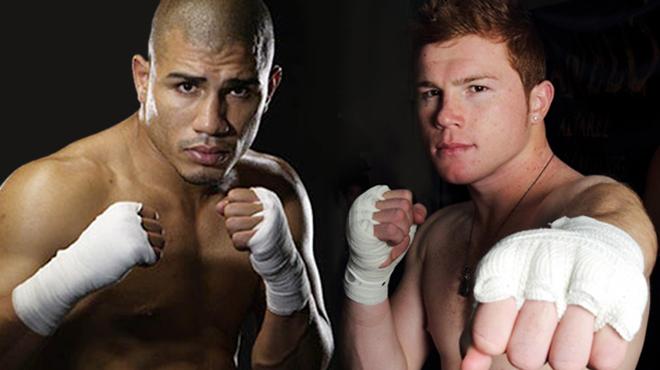 Twenty-four year old Saul "Canelo" Alvarez got bold last week when he sent WBC middleweight champion Miguel Cotto an open letter through the press asking him not to duck him and to sign the contact to face each other on the much fought over May 2nd date. In the letter Alvarez went as far to poke Cotto's Boricua pride by stating, "…but from what I know no Puerto Rican ran from a Mexican, nor a Mexican from a Puerto Rican. This is a boxing classic and what the fans want to see." He also mentioned that if he doesn't accept the fight he will go down in history as the one who turned down a fight with a fighter that beat his own brother.
The rumor around the boxing town is that Cotto is also considering the $40 million carrot Al Haymon has put in front of him to fight in a rematch against Floyd Mayweather Jr. In case you have been living under a rock, Golden Boy Promotions head honcho Oscar De La Hoya and "Canelo" Alvarez have vowed to take over the traditional Mexican fight date of early May from Mayweather Jr who has fought on that date as well as in mid-September for the last couple of years. Mayweather Jr and his team which includes advisor Al Haymon want to keep it. The man that can make it happen for either one.
Miguel Cotto.
Problem is that the $40 million offer is not true. According to his advisor Gaby Penagaricano an offer from Team Mayweather Jr has not been made or at least not for that amount of moola. According to De La Hoya and the open letter from Alvarez Team "Canelo" has conceded many points to the current world champ to make the fight including moving away from a 50/50 split. So what is the hold up?
According to Penagaricano the most important element of the equation, the money, is not done yet. Because of that Cotto has been sitting on the contract for nearly two months. Time is running out if Golden Boy Promotions and Top Rank really want to make a big push in promoting what should be a great event.
At thirty-four and with thirteen years as a pro under his belt, Cotto is obviously looking for the biggest fights, and along with that the biggest purse, he can mster at this point in his career. Is Alvarez one of those? Definitely since the Mexican is so popular but Mayweather Jr is the current proven king of PPV in the sport. Is he holding off to make Team Alvarez panic and offer even more?
That most definitely could be it.
Granted if Mayweather Jr and Manny Pacquiao finally agree to face each other on that same date, Alvarez vs Cotto is a moot point and more than likely it will move to June when Cotto is known to sell out the Madison Square Garden in the eve of the Puerto Rican Parade in New York City.
---