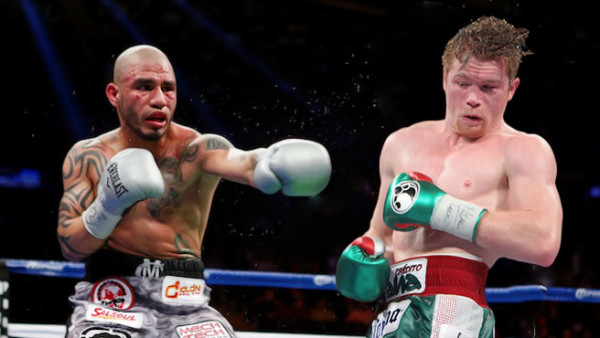 Deadlines come and go. Some get met, some don't. In boxing, it is no different and two important ones were set forth in this first month of January.  After a couple of months of haggling and of tension filled silence from Team Cotto the deal that Golden Boy Promotions had offered since the end of last year was abruptly pulled off the table.  Nothing seemed to work to get the Puerto Rican WBC middleweight champion of the world in the ring with Saul "Canelo" Alvarez.  The twenty-four year old Alvarez, after giving in to all the demands put forth from Cotto and still no signature on the dotted line, went as far as putting out an open letter in the press calling out the Boricua.  In the letter Alvarez went as far as saying that it was unbecoming a Puerto Rican fighter to duck a Mexican one since all the pugilistic history that the two countries share.  The deadline that was missed late last week was the fifth that Cotto missed and De La Hoya, promoter of Alvarez, decided enough was enough and pulled the plug.
De La Hoya mentioned that Alvarez still plans to fight on the coveted May 2nd but it won't be against Cotto. Rumor is that it might be against disappeared James Kirkland in San Antonio, Texas.  De La Hoya claimed that Alvarez will still fight in early May unless Mayweather vs Pacquiao is signed for that same date.  Whether it is on HBO PPV or regular HBO is still up in the air.
Team Cotto mentioned that the fight with Alvarez was not made because of the financial split.  Obviously a fight against Alvarez will generate quite a pretty penny for the aging Cotto, 34, but not as much as a rematch against Floyd Mayweather Jr. Mayweather Jr defeated Cotto back in 2012 via a unanimous decision. Although not great for his record, it was good for Cotto's pocket book as it generated 1.5 million PPV views as one of the best Pay-Per-Views in history.
A Mayweather Jr vs. Cotto possible fight is a moot point if the other deadline put on for this month is met. Manny Pacquiao went on record to give Mayweather Jr, or HBO and Showtime, to make the fight between by the February 1st. According to Top Rank's Bob Arum Pacquiao has agreed to all the terms set by Team Mayweather including a 60/40 split in favor of the undefeated WBC welter and super welterweight champion of the world.  According to all those involved talks are still ongoing between the networks to figure out how to televise the fight. They do have a blueprint since back in 2002 Lennox Lewis, a HBO fighter, knocked out Mike Tyson, a Showtime fighter, in eight rounds.
Mayweather has gone on record to say that he wants the fight and negotiations are ongoing but that it is very difficult to talk with Top Rank. Mayweather has a history with the Las Vegas-based promoter since it was the first in his career.
Pacquiao confirmed that if Mayweather does not agree to the fight by the end of the month, he will move on and look for another opponent he can face in late April.
---