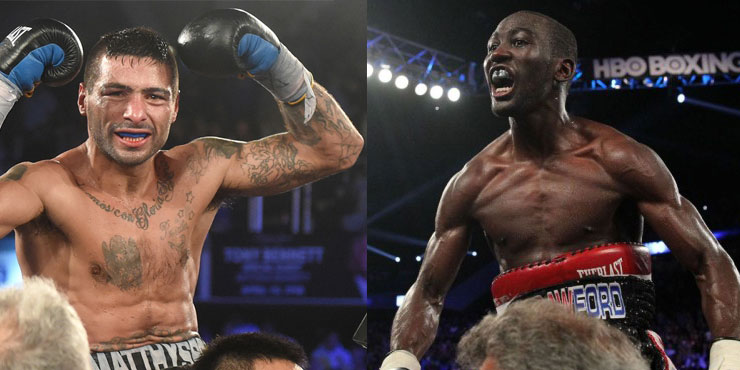 The popularity of the 140 pound division continued its growth after this past Saturday night. There were two exciting victories in both fights on HBO. Terence "Bud" Crawford (26-0, 18 KOs) fought Thomas Dulorme (22-2, 12 KOs) for the vacant WBO junior welterweight Title and Lucas Matthysse (37-3, 34 KOs) fought Ruslan Provodnikov (24-4, 17 KOs) in a 12 round non-title fight. Matthysse vs. Provodnikov was a fight anticipated for months by hardcore fans. The Crawford-Dulorme spectacular ending surprised some as it had generated very little mainstream public interest even the week of the fight. A big reason for that was Matthysse-Provodnikov fight was on the same night and on the same network. They were at different sites with Crawford Dulorme at the University of Texas and Matthysse-Provodnikov at the Turning Stone Casino in Verona, New York.
Crawford vs. Dulorme aired first. Through 5 rounds it was a tactical fight and Dulorme appeared to be holding his own. Crawford in reality may have been just figuring Dulorme out and setting a trap. In round 6 Crawford dropped Durlome with a solid right hand that Dulorme didn't seem to see coming. Dulorme got up but he had not fully recovered. A volume of power punches moments later had him down again. It was just a matter of time now as Dulorme was immediately put down again for the third and final time. It was an exciting 6th round TKO ending that saw Crawford win his second world title in as many divisions. He also put the 140 pound division on alert that he has officially arrived.
Crawford's electrifying TKO win was a nice warm up to the Matthysse-Provodnikov expected thriller. Both fighters would give the fans what they were waiting for. The first half of the fight saw Matthysse pretty much control the action as he out boxed Provodnikov but was battering him with laser like combinations at the same time. Provodnikov's face was evidence of this with a cut, swelling, and bruises a result of Matthysse's power punches. The second half of the fight saw more exchanges between both fighters. It was actually Provodnikov who was able to hurt Matthysse on a few occasions. Matthysse got through the tough moments by wisely tying up. Provodnikov was able to dominate the action for spots in the fight down the stretch but not nearly as consistent as Matthysse was earlier on. Provodnikov made a thrilling offensive push down the stretch. In the end one judge had it even while the other two had Matthysse winning 7 rounds to 5. Immediately after the fight a rematch between Matthysse and Provodnikov was on the mind of many.
Top Rank who promotes Crawford and Golden Boy who promotes Matthysse are now working together opening up a few options for each fighter's future fights.  WBA 140 pound Jessie Vargas who is promoted by Top Rank could be a possibility.  A fight with Vargas would seem more likely with Matthysse than Crawford since both Crawford and Vargas have the same manager. Options get kind of thin after that as the other top names at 140 are signed with powerful advisor Al Haymon who isn't doing alot of fights with either of the above mentioned promoters these days. Matthysse has been chasing a rematch with Danny Garcia since they fought in 2013. Garcia was the underdog world champion defending against the betting favorite  Matthysse in that fight. It was Garcia who would score the only knockdown of the fight dropping Matthysse in route to the close but clear unanimous decision for Garcia.  Matthysse recently left Haymon and resigned with Golden Boy so that wouldn't seem to increase the chances of a Garcia rematch for him.
A matchup between Crawford and Matthysse would seem ideal. HBO having had both of their fights aired on the same night actually helped peak interest in the matchup. Matthysse has yet to win  a outright world title as a pro  (Only the WBC interim) so a shot at Crawford's world title could be a motivation for him to pursue the fight.  Matthysse had a much tougher go of it Saturday night than Crawford did and could need more time to rest before his next fight. An early fall date would seem to be the right time table for Matthysse to return back to the ring. This would allow enough time for Crawford to have a summer voluntary defense of his newly acquired world title and still fight Matthysse in the fall. Time will tell if both sides share these same thoughts to make this fight happen.
---