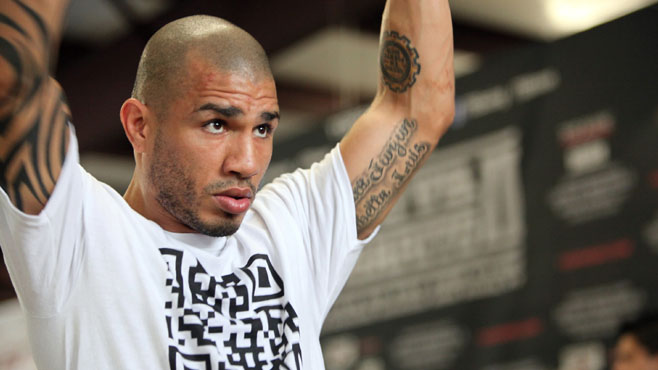 It has happened before and it will happen again in boxing in the near and distant future.  There is a reason why they call boxing the "red district of sports".  Things are going to come to a head soon for the World Boxing Council, Miguel Cotto and Gennady "GGG" Golovkin.  According to Tom Loeffler, CEO of K2 Promotions, one of the stipulations for the fight to be made between his charge Genndy Golovkin and Marco Antonio Rubio on Saturday, October 18th, at the Stub Hub Center in Carson, CA, was that Rubio's interim WBC middleweight title be on the line as well as Golovkin's WBA and IBO straps.  The fight will be broadcast live on HBO.
Now the big question that is on the whole boxing's world head is what is going to happen when Golovkin wins the WBC interim title that Rubio currently holds.  The question is not if he wins it, it's when since nobody gives Rubio, a thirty-five year old veteran of countless wars, a chance against the undefeated hard hitting, hard charging man from Kazakhstan.  With Golovkin putting that strap around his waist on the night of October 18th, it will make him the number one contender for the newly crowned WBC middleweight champion Cotto who defeated Sergio Martinez for the green and gold belt last June.
That fact would spell disaster for Miguel Cotto.
If we are to believe the plans that have been rumored is that Cotto will face south of the border super star Saul "Canelo" Alvarez next May in a power coup to try to take back the traditionally Mexican date from the Evil Empire, better known as Floyd Mayweather Jr and his posse.  One question hanging in the air is if Cotto, who more than once referred to himself as the "A" of the equation in his fight with Martinez, is if Miguel will actually agree to fighting Alvarez a month before his favorite date, the Saturday before the Puerto Rican Parade in New York City in June.  If Cotto plays ball, or better yet said, is offered enough money to forget about his fellow boricuas and instead opts to make a trip to the desert destination of Las Vegas, then what of Golovkin?
It wouldn't be the first time that the WBC lets a champion defend against a mandatory challenger.  That would be the case if and when Cotto and Alvarez face each other.  At times the promotion must pay the number one contendere step aside money to allow the fight to happen.
Now the really interesting part will be, and this can happen, "Canelo" Alvarez defeats Cotto for the coveted linear middleweight title.  Would Golden Boy Promotions risk facing him against Golovkin?  To lose to feather-fisted Mayweather Jr is one thing but to go against the wrecking ball known as "GGG" would be utterly suicidal.
Many things need to happen from this point to that one but if we know something about Golovkin, he is chomping at the bit.
---