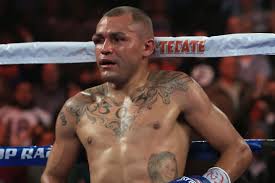 Former world champion Mike Alvarado (34-4, 23 KOs) of Colorado returns to the ring Saturday. It will be his first fight in more than a year. Alvarado is currently riding a three fight losing streak. It should be noted that he received a lot of punishment in all of those fights. Alvarado has not won a fight in nearly three years. In fact Alvarado's last seven fights have all been real ring wars with him going 3wins and 4 losses in those fights.
He should be victorious this weekend fighting very weak opposition in Saul Corral (19-6, 10 KOs) of Mexico. If he is not there definitely is cause for concern in terms of him continuing on with his career. Many felt that his last fight an early knockout loss to Brandon Rios in their third encounter would be it for Alvarado but this was not the case. He like many boxers past and present feels he still have another run in him.
This fight will be a step backwards for him but a necessary one. He needs a win in the worst way as bigger fight opportunities will not present themselves with him coming off of three consecutive losses. This upcoming fight will not be the headliner for an HBO or undercard for a major PPV as has been the norm for Alvarado the last few years. Instead he will be on the undercard of a Unimas telecast. A victory of this type of opposition will not tell us much but any signs of a struggle in the fight would confirm what many are already thinking. Which is that Alvarado's best days are past him.
---