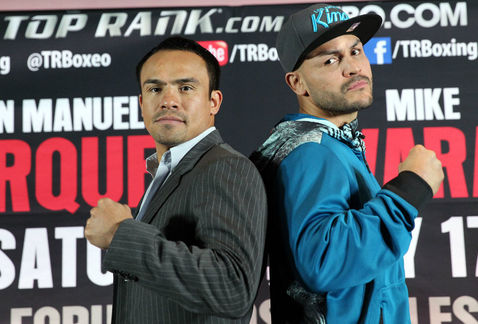 Earlier this week the tickets briskly went on sale for the first fight at the newly renovated LA Forum in Inglewood, CA. In the main event, four divisional world champion Juan Manuel Marquez will take on Mike Alvarado in a twelve round special attraction.  In a special treat in hopes of having close to the fourteen thousand capacity crowd the building will be set up for, Top Rank offered a "Bring your Companion for Free" promotion with every ticket purchased priced from $75-$150 receiving a free ticket.
Last week during the kick-off press conference announcing the match up, Juan Manual Marquez gave an interesting reason of why he chose Mike Alvarado and not Ruslan Provodnikov.  Provodnikov actually defeated Alvarado in his last fight to capture the WBO light welterweight title that the Denver native held.  Provodnikov actually campaigned to face the future hall of fame Mexican legend but Marquez opted to state that Provodnikov still needed to get his name out there to become a viable opponent for him despite being a world champion.  The fact that not only Alvarado but Marquez are coming off losses in their last fights is not that much better.
Marquez in the presser went a bit further and explained with a straight face that the main reason why he didn't choose to fight Provodnikov on May 17th on HBO is because he already has held the belt that the "Siberian Rocky" currently holds around his belt.  Marquez stated that can't get motivated for a title he has already held and that now he is only interested in his fifth divisional title which would be at welterweight.  It is no secret that the winner between the Marquez-Alvarado face-off will face the winner of Bradley vs Pacquiao on April 12th.  Currently Bradley holds the WBO 147 lbs title.
If we are to believe Marquez and then believe what every boxer states in pretty much every interview they give which is they want to give the fans the best and most competitive fights, then why wouldn't Marquez fight Provodnikov in a non-title fight?  In fact, that would work well since neither would have to pay a sanctioning fee to the World Boxing Organization and even make the fight at a catch weight and not the light welterweight limit.
It would be refreshing if Juan Manuel Marquez would actually state the truth and admit that Alvarado, a fighter who didn't begin boxing until his late teens and despite having the heart of the lion is not known as a heavy puncher, is just the easiest and most available fighter at the moment under the Top Rank banner that HBO would pay a satisfying licensing fee for.  It's not surprising that the fight against Mike Alvarado is not for any belt either.
If it all goes according to plan, Marquez defeats Alvarado and Pacquiao exacts revenge on Bradley en route to capturing the WBO belt once again.  We could then look forward to a fifth fight between Pacquiao and Marquez in the fall providing for a gold watch, win or lose, for Marquez who should be announcing his retirement soon thereafter.  With a Bradley win, then you would just then insert the undefeated Palm Springs fighter instead of the Filipino super star and actually gives us a fight that Marquez might be more interested in.  If Alvarado would happen to win, then all that goes up in flames.
---