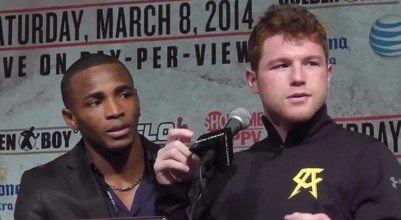 Saul "Canelo" Alvarez looked more annoyed than threatened the night of March 8th when WBA super welterweight champion Erislandy Lara of Cuba interrupted his post-fight press conference to challenge him to a fight.  The twenty-three year old Alvarez, coming off a dominating technical knockout win over Alfredo "Perro" Angulo, asked the assembled media if anybody was interested in the fight with only Lara's manager answering with a resounding yes.  In fact for many in the media and fans alike the fight against Lara is the only one that makes sense for Alvarez at this point in his forty-five pro fight career.
Alvarez is on a slight uphill climb in getting back in the good graces of the Mexican fans after his disappointing performance against the black-hat Floyd Mayweather Jr last September.  The fact that the much smaller Argentinean Marcos Maidana gave much more of a fight this past Saturday against Mayweather doesn't bode well for Alvarez of Guadalajara, Jalisco, in the eyes of the large proud Mexican boxing fan base who expect their warriors to nearly kill themselves to defend national pride.  Al-a Chavez Sr, south of the border fight fans expect for their fighters to take three punches to deliver one.  "Canelo" mistakenly opted to try to out-box the considered current best pound for pound fighter in the world and as a result was embarrassed in front of the biggest boxing audience in years.
This past March Alvarez took a step in the right direction when he one-sidedly beat up the seemingly shot Alfredo "Perro" Alvarez in his first properly headlined PPV.  The fight card turned in decent numbers of a little north of 350k buys proving that despite Alvarez not seen as the pre-Floyd Mexican mega-star, he is still one of the most important bolts in the boxing cog.
Boxing is as nationalistic as any sport if not more.  Sides are taken by which flag you fly.  Only the World Cup every four years might divide the fans by hometown colors a bit more than the sweet science.
Erislandy Lara falls into the plan almost by design.  Cuban with an exceptional amateur pedigree, the thirty-one year old "American Dream" is the perfect foil for the reserved Alvarez.  Lara likes to talk.  A lot.  En route to securing which should be the biggest payday of his career Lara has taunted Alvarez every step of the way going as far as to say that Cuban fighters tend to take Mexicans ones to school.  With that statement Lara turned the twelve round special attraction fight into more than just a boxing match but into an honor duel.
Alvarez has gone on record to say that there hasn't been a potential opponent he wanted to hurt more than Lara.  It is obvious that Lara has gotten under Alvarez's skin.  Nothing helps PPV sales more than two fighters displaying genuine dislike of each other.  After all, this is a fight.  The dislike will do more for the promotion,  and more importantly Alvarez's reputation, than  the fact that the bout is not for Lara's WBA title, that its contracted at catch weight and that it will not be broadcast in Mexico by Televisa, the biggest network in the country.
Now all that is left is whose colors are going to shine the brightest.
---