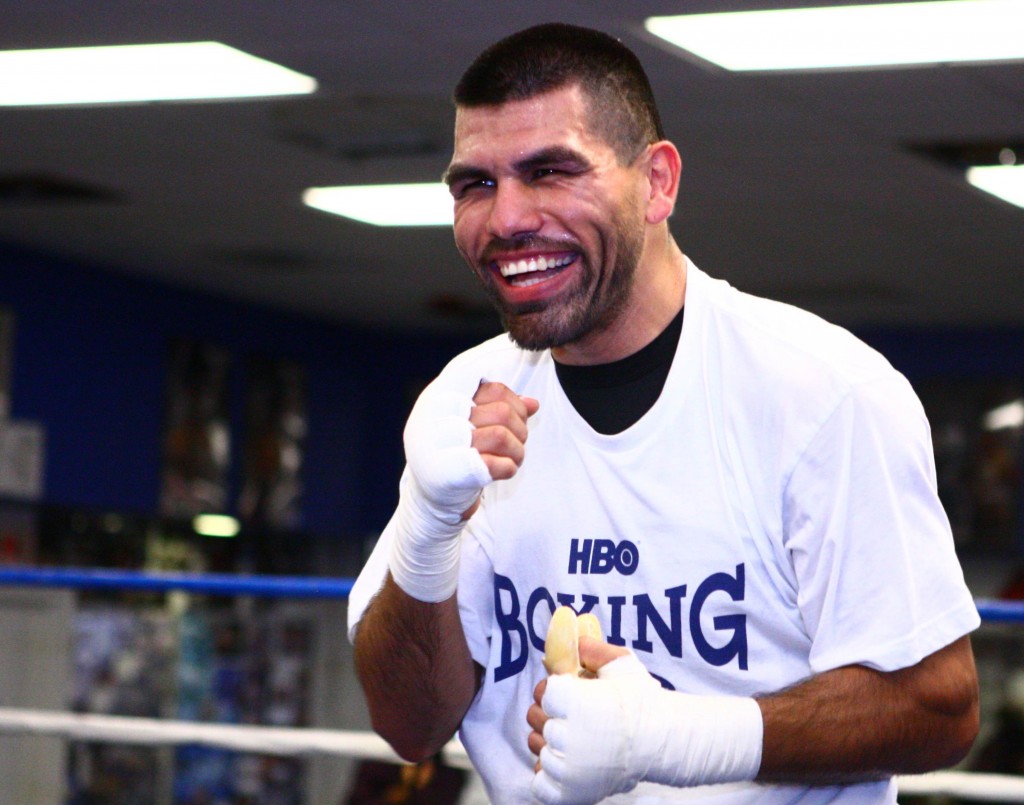 This Saturday night the boxing universe will tune in to see the return to the ring of Mexican superstar Saul "Canelo" Alvarez when he faces super welterweight veteran Alfredo "Perro" Angulo of Mexicali, Mexico, at the MGM Garden Arena in Las Vegas, Nevada.  The special attraction twelve-round scheduled bout will mark the second fight in the row for Alvarez on Showtime PPV.  In his first, Alvarez dropped a controversial majority decision to the pound for pound king Floyd Mayweather Jr in the biggest boxing event in recent times.  It was only controversial because one of the ringside judges, CJ Ross, scored it a draw when over two million TV viewers and nearly twenty thousand fans inside the MGM saw Mayweather Jr win a lopsided decision.
"Canelo" originally made an offer to Puerto Rican Miguel Cotto for his first date of 2014 but the three-divisional champion after stringing the redhead and Golden Boy Promotions along for a couple of months opted to go for glory instead of the guaranteed ten million greenbacks Alvarez promised to face Sergio Martinez for his opportunity for a fourth title in as many divisions.  Once Cotto said no, the thirty-one year old Angulo was contracted because the general consensus is that the Mexican brawler has the perfect style for Alvarez to exploit and look great against in hopes of gaining back some of the trust of his vast Mexican public.  It is no secret that Alvarez is not viewed as the same untouchable wunderkind as he did prior to his performance against Mayweather Jr.  Many of his Mexican fans believed that Alvarez of Guadalajara, Mexico, will go out and look to pressure Mayweather Jr and look for the knock out.  Instead they got a confused twenty-three year old that looked to out-box one of the best boxers of his generation.
Angulo is seen as a slow, plodding but very strong typical come-forward Mexican fighter who is expected not to be able to deal with Alvarez's speed or technicality but the powers that be might have overlooked a number of things that Alvarez brings to the table.  It is obvious that Angulo will not look to have a boxing match versus Alvarez but a Mexican shootout.  In that department Angulo is the more experienced one having gone to war in a number of fights more recently with James Kirkland, Jorge Silva and Erislandy Lara.  Although not considered to possess a vast amount of technical knowhow, Angulo as an amateur was part of the Mexican Olympic team and competed in the 2000 Olympics losing to Andy Lee.
Ever since returning in the summer of 2011 after a hiatus from the ring due to visa problems, Angulo has been working with Oakland's Virgil Hunter.  Hunter is best known as the trainer of undefeated and top five pound for pound fighter Andre Ward but recently has amassed a nice stable of former champions including Amir Khan and Andre Berto.  With the cerebral Hunter in his corner, Angulo has a vast advantage over "Canelo" whose corner have not proven just yet that they can come up with a Plan B or C.  Angulo has also mentioned that he has been sparring with not only the very talented Andre Ward but the lightning quick Amir Khan.
Alvarez is the favorite in this fight but choosing Angulo is not an "out of this world" decision.  With a loss here, Alvarez would be in the worst position of his career while Angulo would get a second wind in his nine year career.
---